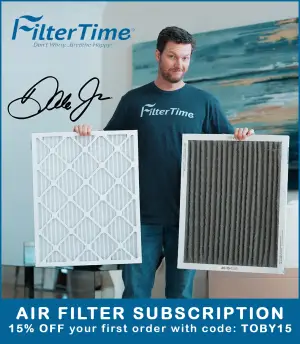 Race cars in the NASCAR Cup Series, Xfinity Series, and Craftsman Truck Series will continue to burn up the track with yellow lettering on their tires for years to come as NASCAR and Goodyear announced a multi-year extension of their longstanding partnership.
Goodyear released a 42-second video to their social media channels for the announcement:
Through the years, Goodyear and NASCAR have enjoyed a shared history. We're proud to announce that through a new multi-year agreement as the Official Tire of NASCAR, we will continue to build upon that history. Now, on to the 2023 season! pic.twitter.com/wSMBQz9px8

— Goodyear (@goodyear) December 1, 2022
For Goodyear, the partnership with NASCAR is more than a way to get their brand in front of fans, the partnership truly helps them develop their tires for consumer cars on the highways across America.
"From our manufacturing plants to offices around the world, racing is ingrained in our culture, and the importance of our relationship with NASCAR is reflected in the quality, performance and engineering we put into every Goodyear Eagle race tire," said Richard J. Kramer, chairman, chief executive officer and president at Goodyear. "Our performance on the racetrack plays an active role in the success of the sport and inspires the development of our consumer tires, fueling our commitment to take performance and innovation to the next level."
While Goodyear has been pumping out tires within NASCAR since the 1950s, it wasn't until April 1997 that Goodyear became the official sole supplier of tires in NASCAR. That 25-year partnership will forge on and NASCAR believes Goodyear will be a part of the sport for a long, long time.
"Goodyear has been a trusted partner to the NASCAR industry since 1954, playing a critical role in our shared pursuit to deliver the best racing in the world," said Steve Phelps, president of NASCAR. "For more than 25 years, Goodyear Eagle tires have been the only component that connects the stock car to the racetrack. Our continued partnership will allow us to push boundaries and innovate our racing product for generations to come."
Before the 1997 season, NASCAR allowed multiple tire manufacturers within the sport at a single time. The competition allowed tire manufacturers to push the boundaries with their products on the race track, in an effort to give teams more speed. But the tire wars between Goodyear and Hoosier in the late 1980s and early 1990s led to the boundaries being pushed too far, too often.
With a sole supplier, it prevents the tire wars from playing out.