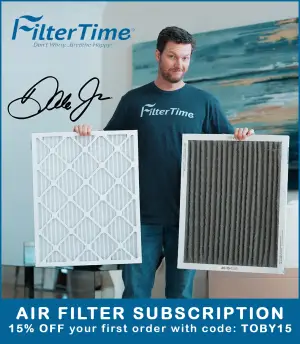 It was a rough night for Chad Chastain, the brother of Ross Chastain, in Saturday night's Bill Bigley Sr. Memorial 128 at 4-17 Southern Speedway, as he failed to make it into the Main Event for the race.
However, Chastain had one last chance to showcase his talents in the consolation race for drivers that did not make it into the big show.
Chastain started from the pole, but things got weird on lap 16 of the 50-lap race. Chastain, who was running second in the four-car race, got absolutely dumped in the turn by the No. 78 car, which was driven by Cody Coffman.
After the contact, the No. 78 car went hard into the outside wall, ending Coffman's night. Luckily, Coffman was okay.
But the chaos didn't end there. As the race was under a red flag for clean up of Cody Coffman's car, the track officials had heard a rumor that John Coffman, the listed driver of the No. 58 car, was not the driver behind the wheel. After a quick investigation, it turned out Coffman wasn't the driver behind the wheel.
Instead, Jason Lester, who had apparently told the P.A. announcers that he was going to race, which was thought to be a joke, had actually illegally substituted in the event for Coffman.
As a result, No. 58 was parked for the evening.
What a strange turn of events.
This left just two cars remaining in the four-car event — Chastain and Chris McIntyre.
Chastain would end up spinning out for the third time in the race with 13 laps to go, which caused him to be removed from the event. Which hand-delivered the win to McIntyre.
---
*Editor's Note: This story has been updated as we originally reported Jason Lester as being an illegal substitute driver of the No. 78 car for Cody Coffman, while he actually substituted in the No. 58 for John Coffman.
The change has been made and the story has been completely updated.