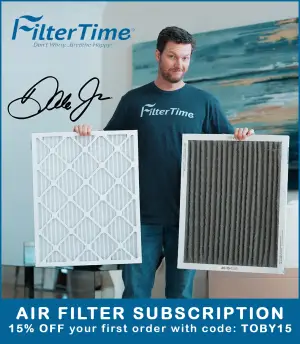 A last-ditch effort to make the next round of the NASCAR Truck Series Playoffs resulted in a second-place finish for Carson Hocevar, but in the end, it just wasn't enough for his post-season hopes to remain alive.
The 19-year-old entered the final event of the 'Round of 10' just three points below the cutline. As a result of a poor starting position, Hocevar was only able to pick up one point in the race's first two stages, which pre-empted crew chief Phil Gould to switch gears and chose a different strategy to save their championship hopes.
"Phil Gould made a hell of a call that I didn't even see it," Hocevar said. "Fifty-six laps to go, there's going to be a yellow right? It's a cutoff race, it's the Truck Series of all things. Sitting there shaking my head like 'uh okay,' we were running 18th or 20th. A little bit better position on my part just in that one, I mean how are you supposed to know that the 19 was going to have a flat right in front of me? But he [Gould] deserved to win that race, Worldwide Express deserved to win that race, just on strategy, we were nowhere near the best car."
Under the fourth and final caution of Friday night's Kansas Lottery 200 is when Gould elected to bring the No. 42 Chevrolet Silverado for a fresh set of tires and a full tank of fuel as they tried to stretch it for the final 54 laps in the race.
With 31 laps to go, John Hunter Nemechek – the race leader – pitted for what was the final time in the event. Once the field cycled through, Hocevar was out in front of the pack with a lead that had a 20-second margin.
Nemechek was able to make the pass for the victory on the final lap in the race, eventually taking his second win of the season as Hocevar's fuel-saving efforts barely got him to the end of the race.
"I don't know," Hocevar said. "I don't know how you're supposed to handle these, as many times as I've come close, I should be used to this. But I'm going to be a bridesmaid at my own wedding, I don't know. I thought I saved too much and could have gone harder and built a gap. Into [Turn 3] coming to the white flag I started sputtering, I knew it was game over. The 19 had an issue and I lost three seconds there, looking back I wish I could have gotten those back."
The Michigan-native still had an opportunity to point his way into the next round of the Playoffs, but that opportunity evaporated after Christian Eckes gained six positions in the final laps of the event, gaining six points to take the eighth and final spot from Hocevar, despite his second-place finish.
Friday's runner-up finish is the fourth of his career, as well as the fifth top-three finish throughout the 2022 NCWTS season. In his second Playoff berth, Hocevar has been bounced after the first round both times.