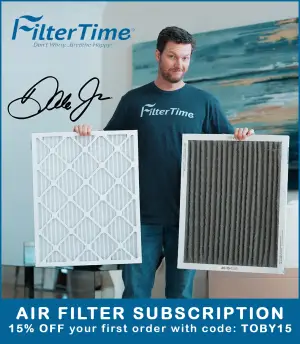 UPDATE: Anthony Alfredo has told FOX Sports' Bob Pockrass that he had been under the weather inside the car, and was dry heaving under caution, which is what led to him running into Nemechek.
Anthony Alfredo was in the care center for about an hour after his accident with John Hunter Nemechek. He said he has been under the weather and was getting sick to his stomach in the car and that is what caused the accident: pic.twitter.com/Tma07b9cAX

— Bob Pockrass (@bobpockrass) September 3, 2022
---
Anthony Alfredo is very active in the world of iRacing, but he looked like a driver in a midnight fixed C-class race in Saturday's NASCAR Xfinity Series race at Darlington.
While under the Stage caution between Stages 1 and 2, Alfredo was speeding around the track to catch up with the field, and it appeared something broke on the car and he was unable to get slowed down.
As Alfredo turned left, in an attempt to avoid hitting anyone, he slammed into the rear of John Hunter Nemechek's No. 26 Sam Hunt Racing Toyota Supra.
Here is the bizarre incident:
Tuesday: Alfredo sauce spill closes I-55 in Memphis.

Saturday: Anthony Alfredo crashes into John Hunter Nemechek.#NASCAR pic.twitter.com/FUtREsqsHj

— NASCAR on NBC (@NASCARonNBC) September 3, 2022