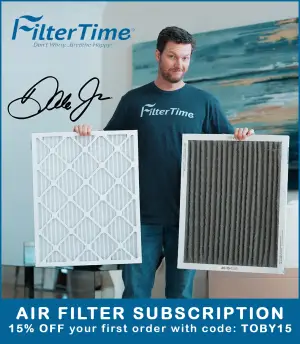 How about a Portland sweep? At a road course that's shown its challenges for drivers to tame, Jake Drew put on another dominating performance to collect his fourth victory of the 2022 ARCA Menards Series West season. Two of those wins have now come on the 1.967-mile circuit in Oregon.
Sunrise Ford Racing is on an absolute roll, as they have now won the last five series events. What's the last race that they DIDN'T win? April 23rd at Kern County Raceway Park.
Drew has found a sweet spot this year in ARCA, as yet another dominant victory will extend the 22-year-old driver's points lead on the rest of the field, almost tasting the season championship at this point.
This time in Portland, the race was much calmer (and drier). For Drew, it began with an early pass for the lead on Todd Souza, setting Drew ahead comfortably all the way until the first race break on lap 22.
How to make a pass for the lead at Portland: A lesson courtesy of @jakedrewracing @Portland_GP | @FloRacing pic.twitter.com/yXHIFvTSdW

— ARCA Menards Series (@ARCA_Racing) September 4, 2022
Action started to heat up on the restart, with both Bill McAnally Racing cars suffering damage and eventually going a lap down – two laps down in Landen Lewis' case – over the next few minutes.
Things are getting interesting in Portland 👀@Portland_GP | @FloRacing pic.twitter.com/zQX5JlQjPl

— ARCA Menards Series (@ARCA_Racing) September 4, 2022
Drew would once again pull out to a convincing lead, but as the field approached the 20 laps to go mark, we'd rack them back up again for a restart after Vince Little's stopped No. 85 car brought out another yellow. Bridget Burgess would also see her day end during the caution with a mechanical failure.
On the restart, Cole Moore suddenly surged all the way back to the front after his incident earlier in the race. How so? Restart violation. Moore would have to make a pass-through down pit road, adding to his already eventful race.
No further incidents would happen the rest of the race, but we did get another moment to add to the Vince Little highlight reel. This time, it was a 360!
360 and keep going!@Portland_GP | @FloRacing pic.twitter.com/4M6LY0ZvOI

— ARCA Menards Series (@ARCA_Racing) September 4, 2022
How about that No. 13 of Souza? He finally broke through for his best finish of the season in the second position by a good margin over third place Tanner Reif, who couldn't manage to score the back-to-back victory after winning at Evergreen.
The No. 99 of Moore rallied back to a fourth-place finish after a series of unfortunate events took him out of contention for potentially challenging for the win, or at least the second position. Takuma Koga placed right behind him in the fifth spot, tying his best finish of the year which came in the previous race on this track earlier in the season.
Ryan Philpott, Davey Magras, Joey Iest, Lewis, and Burgess rounded out the top ten finishers.
The series gets just under a month break until the next event, where drivers will attempt to tackle the All American Speedway on October 1st, 9:45p.m. ET on FloRacing.