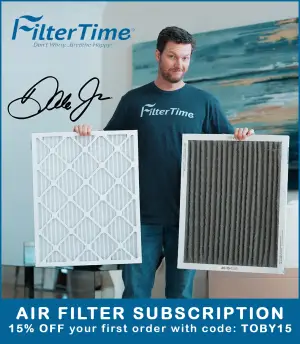 When the NASCAR Xfinity Series heads back to Talladega Superspeedway for the one-year anniversary of Brandon Brown's highly publicized first-career victory, the 28-year-old will have a familiar partner on board his No. 68 Chevrolet Camaro.
Zero FG Energy – a newly-established and rapidly growing brand of energy drinks – is set to return as a primary partner for Brown and Brandonbilt Motorsports in the NASCAR Xfinity Series, as driver and team navigate an emotional return to the 2.66-mile superspeedway.
Brown's return to Talladega Superspeedway will be a reminder of a turning point in his NASCAR Xfinity Series career, not necessarily because of his triumph that day, but rather what was spun from said triumph.
The Woodbridge, Virginia native would be thrown into the spotlight on a global level after a political movement originated from his victory at Talladega, which instantly overshadowed the accomplishment Brown and Brandonbilt Motorsports had spent seven years working for.
Just one year later, Brown's career continues to be haunted by the events that occurred after his first victory at Talladega.
Coincidentally, it was during the height of Brown's undesired worldwide recognition that Zero FG Energy's Founder, Josh Askew, became acquainted with Brown.
"Like many NASCAR fans, I was originally drawn to support Brandon Brown after seeing what a talented race car driver he had proven to be," said Zero FG Energy founder Josh Askew. "Unfortunately, his career suffered after becoming collateral damage in a nationwide movement that he did not ask to be a part of – and that didn't sit well with me. Then, after getting to know Brandon personally and hearing his story, it became clear to me that all he wanted to do was race."
"Fortunately, that mentality aligned directly with our culture here at Zero FG Energy, where we encourage everyone to run their own race and disregard negativity," continued Askew. "We're extremely proud of Brandon for his embodiment of the Zero FG brand as he continues to work extremely hard at leaving the negatives in the past while doing his best not to let anything stand in the way of what he loves to do. And for those reasons, we're proud to continue our support of Brandon during his return to Talladega and beyond."
The Sparks Energy 300 at Talladega Superspeedway will mark the third primary sponsorship of the 2022 NASCAR Xfinity Series season for Zero FG Energy after the two parties debuted their partnership at Atlanta, only to follow it up with a third-place finish at New Hampshire.
"It's been a tough year of racing, but thanks to the support of great partners like Josh, Chuck, and everybody at Zero FG Energy, it's made things a whole lot better," Brown explained. "I'm incredibly grateful to have Zero FG Energy on board with me when our team returns to Talladega in October, where I hope to improve on our partnership-best finish of third and put the No. 68 back in Victory Lane, where I know that the Zero FG's will taste even better than they already do."
With only three races to go until the NASCAR Xfinity Series Playoffs, Brandon Brown currently sits 15th in points, after scoring a pair of top-five results at Loudon and Daytona, as well as four top-10s, while racing for a number of different organizations.
"I encourage all race fans to help me in showing support for Zero FG as they've shown support for me, by visiting their website and ordering a few cases of their delicious tasting products. And if you live in Georgia, visit your local gas stations or convenience store to see if you can find their products as they've been rapidly expanding across the state."