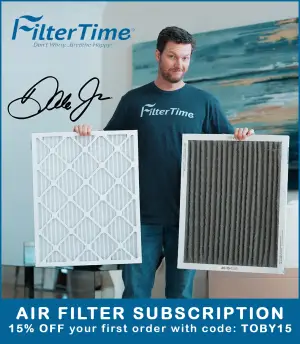 Over the last couple of months, the overall safety of the Next Gen car has been called into question, after multiple comments from drivers regarding the impacts that they're facing inside the cars, from what seem to be simple accidents.
These questions of safety have become more frequent and mainstream since Kurt Busch's qualifying accident at Pocono in July, an accident that, despite looking pretty standard, has seen the 44-year-old on the sidelines since, with no timetable to return.
Furthermore, the NASCAR Cup Series regular-season finale at Daytona last weekend produced a number of hard impacts – as is customary in superspeedway racing – but more than ever before, driver soreness has been a topic of discussion in the week leading into the Playoffs.
The increasing noise that surrounds the safety of the Next Gen car – currently in its first season of competition – coupled with Kurt Busch's season-altering accident, raise even more questions of if these safety concerns hold weight.
From Joey Logano's point of view, those concerns continue to be extremely valid, as he told members of the media on Thursday at NASCAR's annual Playoff Media Day.
"I'm concerned," Logano exclaimed. "I think everyone's concerned, right now. I don't see how you would not be. You look at your competitors and your own experiences being brutal in comparison to what the old car was, yeah that's gonna raise an eye."
"You look at some of the things that have happened. Kurt's situation, you hear about some of these wrecks from last weekend [at Daytona], my experiences at Charlotte and Michigan. That's real, you can't hide from that."
During the closing stages of the Coca-Cola 600 in May, Logano was collected in a multi-car accident, which saw his Team Penske Ford make significant drivers-side contact with the outside wall, contact which Logano accredits as being the hardest hit of his career.
"It's frustrating we're in this position in the first place, but it doesn't seem like everything has added up quite yet to make the best decisions," Logano continued. "I think that's kind of the position we're in as a sport, is what are the things making this car hurt more when you wreck, and what is a reasonable fix."
The issue, which Logano reiterates has existed since "before the car even hit the track", has become more mainstream over the last six weeks, the reasoning of which Logano believes is because of the fact that Kurt Busch is unable to compete, right now.
"There's a lot of things like that you can look at with these cars and say, 'Okay, the rear clips are too stiff.', obviously they are, that's not an easy fix," Logano explained. "We've already softened up the clips one time before the season even started, we cut slots in [the chassis] and we still don't think we've done enough obviously."
"So, the next step is not a quick, easy fix of just cutting slots into the chassis, it changes a lot and positioning of where things are, so it's not an easy, quick fix. So you've just kinda got what you got for a few weeks until they can come up with an answer that's right for everyone."
When it comes down to discovering a long-term solution, Logano understands that these processes take time, turning his focus to making sure that everything within his control, is as safe as he can possibly make it.
"The quick fixes are just making sure that your cacoon is correct. Your head surrounds, the stuff that you can control at Team Penske, how do I make that better," Logano explained. "I put more time into my head rest lately than I ever have."
"From everything we've learned, a gap is really bad, that any gap you have from your headrest, is what gives you momentum into it, that's what's shaking your head. So you're trying to close that gap up while being able to still maneuver, and race. So, just trying to close that stuff up in the most efficient way, different types of foam – and things like that – to work with while trying to achieve comfort and better safety."
For NASCAR, the new car's implementation has continued to be a learning process, in which the sanctioning body has made the appropriate changes when necessary, as new unfathomable issues arise.
"There have been changes made," Logano reassured. "Some things fairly quickly, some things have taken some time and some of them we didn't even know were issues until it happened. The fire thing, the exhaust pipe getting knocked into the rocker, and the car catching on fire."
"That's a new one, and there's a quick fix to that. Cool. Alright. Got it. Is it completely fixed or is it band-aided, it's probably a band-aid, for now, we can probably make it better even still, but it's better than not doing anything, right?"
"Here's the bottom line too, guys, safety is expensive. I hate saying that, but it's true."
Logano further conveyed that the car itself isn't dangerous, but rather lacks when it comes to safety in some areas, and is superior to the previous generation car in various areas of safety, as well.
"Is our car not safe? I'm not saying it's not safe, I'm saying it's not as safe as the old car, in some ways. In other ways, it's safer than the old car. You look at the intrusion, I don't see anything getting inside the car as easily as the old car. So as far as rolling over and the cage crushing on your head, I feel way, way, way, better about that situation, which I lived that one in the old car, and it was bad."
"So, any intrusion, I think we're in better shape. It's the top ten percent of the wrecks, the big, hard ones, and the intrusion issues, I feel better about that, it's the everyday hits that are more severe than they used to be. So, it depends on how you want to look at it."
As the NASCAR Cup Series begins its ten-race post-season Sunday at Darlington Raceway, those involved in arguably one of the most wide-open title fights in recent memory will be putting it all on the line. So, is this a concern, as far as the Playoffs are concerned?
"I don't think so, but it can happen, right? It already happened for Kurt, unfortunately," Logano said." So, it can happen, you could never rule it out, but I really, really pray to god that's not the case for anybody.
---
Full Video of Joey Logano's Discussion with Media About Next Gen Safety: