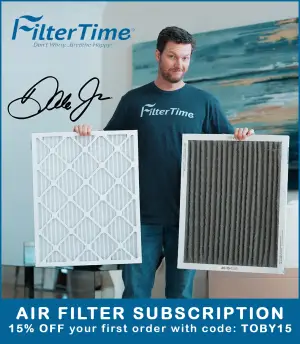 Derek Griffith, one of the most successful names in short track racing, will get the opportunity to compete on the bigger tracks this season, announcing Tuesday that he'll add Kansas and Talladega to his NASCAR Xfinity Series schedule with Sam Hunt Racing.
The Hudson, New Hampshire-native will pilot the No. 26 Toyota GR Supra in his two additional races, the same entry he's driven in his three prior starts in the series at Martinsville, Richmond, and New Hampshire.
💥 HE'S BACK 💥

We've been holding on to this secret for a while… @derekgriffith12 will pilot the No. 26 Toyota GR Supra at @kansasspeedway and @TALLADEGA!#TeamToyota | #LetsGoPlaces | #KansasLottery300 | #Sparks300 pic.twitter.com/zrHHwg1jyu

— Sam Hunt Racing (@Team_SHR26) August 30, 2022
In three starts, Griffith recorded a pair of top-25 results, including a career-best 18th-place finish at his home track of New Hampshire Motor Speedway.
The 2022 NASCAR Xfinity Series season has been a career-year for Sam Hunt Racing, which fields the No. 26 Toyota GR Supra full-time for a variety of drivers, as well as the No. 24 Toyota GR Supra on a part-time basis.
This season, the organization has recorded a pair of top-five finishes at Phoenix and Darlington with John Hunter Nemechek, as well as a third top-10 result at Nashville with Jeffrey Earnhardt behind the wheel.
The Kansas Lottery 300 at Kansas will take place Saturday, September 11, while the Sparks 300 at Talladega will take place on Saturday, October 2.