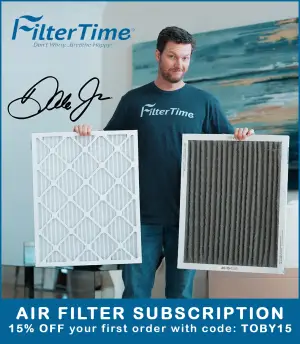 Sure, Dale Earnhardt Jr. hasn't been a fixture in a late model race car in decades, but the 47-year old NASCAR Hall of Famer knocked the rust off in style on Tuesday night at North Wilkesboro Speedway.
In practice No. 2 for the CARS Tour Late Model Stock Tour Window World 125, Earnhardt turned the fastest lap in the No. 3 SunDrop Chevrolet, and he did so by almost a tenth and a half over current NASCAR Camping World Truck Series driver Corey Heim.
Following the session, Earnhardt spoke to Racetrack Revival North Wilkesboro's social team about how he is acclimating to the car.
🗣 Hear from @DaleJr after he put it P1 in second @CARSTour #WindowWorld125 practice! pic.twitter.com/TltAmeMZLw

— Racetrack Revival North Wilkesboro (@RTRevival) August 31, 2022
"We did a mock [qualifying] run, that's why we were so quick in practice, compared to a lot of guys," Earnhardt explained. "Just working on a couple of little balance issues. The car was really loose earlier today, now, the car has changed quite a bit. We'll see if we can change a few things and see how the car reacts to it."
While he was quick in practice, Earnhardt is still a little nervous, despite having a fun time so far in the No. 3 machine.
"So far, so good. Having a lot of fun. Just trying to settle in," Earnhardt admitted. "Get a little more comfortable. The anxiety and the nerves are at a max, so, I'm trying to chill out a little bit."
Here are the full results from the practice session:
3-Dale Earnhardt Jr., 19.454 sec.
78-Corey Heim, -0.146 sec.
87-Mike Looney, -0.154
81-Mini Tyrrell, -0.250
43-William Sawalich, -0.257
5-Carter Langley, -0.326
12-Kaden Honeycutt, -0.371
16-Chad McCumbee, -0.449
8-Carson Kvapil, -0.463
2R-Braden Rogers, -0.472
22-Bobby McCarty, -0.536
24-Mason Diaz, -0.541
91-Jonathan Shafer, -0.586
28-Connor Mosack, -0.591
14-Jared Fryar, -0.594
77-Connor Hall, -0.600
95-Jacob Heafner, -0.621
03-Brenden Queen, -0.624
2-Brandon Pierce, -0.636
32-Zack Miracle, -0.676
1-Andrew Grady, -0.698
44-Conner Jones, -0.756
4w-Dylon Wilson, -0.797
29-Bryan Reedy, -0.809
8b-Chase Burrow, -0.870
21-Stefan Parsons, -0.890
71-Katie Hattinger, -0.927
34-Pat Rachels, -1.040
10-Janson Marchbanks, -1.150
4-Hayden Swank, -1.542