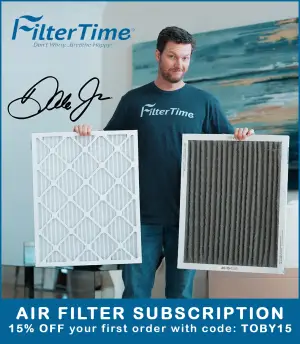 There is just something about Circuit ICAR that brings out the best in Kevin Lacroix.
Whether it's the track's unique configuration or the fact that the road course is located 20 minutes from Lacroix's hometown of Saint-Eustache, Quebec, the 33-year-old just knows how to make fast laps.
Saturday's General Tire 125 was no exception, as Lacroix led a whopping 64 of 70 laps en route to his 17th victory in the NASCAR Pinty's Series, and his 14th Pinty's Series event on a road or street course.
The triumph marked the fourth win for Lacroix at Circuit ICAR, which includes the series' last three events at the facility, dating back to 2017.
Looking at NASCAR's official race results, the final lead change will be shown as occurring on the seventh lap of Saturday's 70-lap contest, when Lacroix powered around Marc-Antoine Camirand for the lead, but that doesn't tell the full story.
After Glenn Styres stopping on-track brought out the race's second and final caution, a restart with 15 to go saw Andrew Ranger make a massive dive into the first corner, clearing Kevin Lacroix for the top spot, momentarily.
Despite the track being measured at just under one mile, Lacroix was able to claw his way back around Ranger before the conclusion of the lap, keeping a bonus point from the GM Paille Racing No. 27 Chevrolet.
From that point forward, Lacroix was flat flying, extending his margin to two-plus seconds as the run continued, eventually beating Marc-Antoine Camriand to the start-finish line by 1.988 seconds.
Camirand, who entered the race as the series' points leader, further extended his margin over the remainder of the field with a second-place result. Alex Guenette – winner from GP3R – came home in third.
After flying to Mirabel, Quebec early on Saturday, after finishing eighth in the NASCAR Xfinity Series event at Daytona International Speedway, Alex Labbe charged from 22nd to fourth, his first top-five in the series since 2019.
Andrew Ranger ended up fifth, after making an aggressive move on the race's final restart to try and take the top spot.
LP Dumoulin faded back to sixth in the closing stages of the event, with Alex Tagliani, Treyten Lapcevich, Brandon Watson, and Dexter Stacey rounding out the top-10.
DJ Kennington – who entered the event second in standings, only 12 points behind Marc-Antoine Camirand – had an uncharacteristically poor afternoon, finishing 12th, 26 seconds behind race-winner Kevin Lacroix.
With only two races left in the 2022 NASCAR Pinty's Series season, Marc-Antoine Camirand looks to have a firm grasp on the championship this season, entering CTMP with a 23-point advantage over DJ Kennington.
However, if Camirand looks to be successful in capturing his first title, he'll have to be mistake-free through the final two races, up until the checkered flag waves on the season at Delaware Speedway.