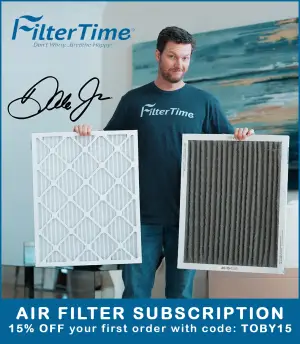 Kurt Busch, who has been sidelined since a crash in qualifying at Pocono Raceway on July 23rd, will miss the next two NASCAR Cup Series races at Watkins Glen International and Daytona International Speedway as he continues to recover from concussion-like symptoms.
Busch, 44, gave the update on his status via a statement released to Twitter on Thursday, which read, "As much I want to be back in the car, the time is still not right. Over the last few weeks, I have focused all my efforts on getting better. And in order to fully focus my recovery on trying to be back for the playoffs, I will not be competing in the next two races at Watkins Glen and Daytona.
"This decision was not an easy one, but the right one. I need to be racing at 100%. I owe that to everyone at 23XI, all of our partners, my fellow competitors and the fans.
"It's my goal to be back in the No. 45 Toyota Camry TRD to start the playoffs. I know Ty will continue to do a great job in my absence, and I appreciate the competitiveness he's brought to the track.
"I continue to be incredibly grateful for all the well-wishes and support. It truly means a lot."
Here is the statement on Twitter:
— Kurt Busch (@KurtBusch) August 18, 2022
Ty Gibbs, who has filled in for Busch in each of the last four NASCAR Cup Series events, will once again pilot the No. 45 23XI Racing machine.
Gibbs, 19, has had finishes of 16th, 17th, 10th and 36th in relief of Busch. The one finish outside the top-20 came this past weekend at Richmond Raceway when the engine in the No. 45 Toyota expired on lap 180, ending Gibbs' day early.
Busch sits 21st in the NASCAR Cup Series championship standings, and looks to be safe on not falling outside the top-30 of the driver standings. However, if we get an additional two new winners between Watkins Glen and Daytona, his Playoff status could be in question.