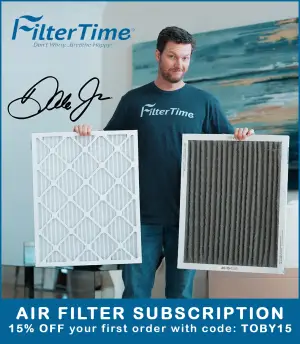 Once the dust from the 2022 NASCAR Cup Series campaign settles in Phoenix Raceway, NASCAR's Most Popular Driver will look to kick up some more, announcing on Thursday that he'll compete in a one-off event in Travis Pastrana's Nitro Rallycross series in November.
Elliott, who competed in last season's Nitro Rallycross finale in Florida – will return to the series for its November 12 to 13 event at Wild Horse Pass Motorsports Park in Phoenix, competing for Dreyer & Reinbold JC.
The Dawsonville, Georgia-native will compete alongside the likes of Travis Pastrana, Jenson Button, and 2022 winners Robin Larsson and Andrea Bakkerud, in the series purpose-build electric vehicles, the FC1-X.
"I'm so excited to bang doors again with Travis at Nitro Rallycross in Phoenix," said Elliott. "Last year was so much fun. I had a blast driving – the truck was unreal. Flying over gap jumps definitely took some getting used to at first. But the thrill of putting your skills to the test on a course like this while competing against the best in rallycross is something I couldn't get enough of."
In his one-off appearance last season, Elliott made an impressive pass on Tanner Foust for what would have been the victory, until the 2020 NASCAR Cup Series champion was disqualified for making an abundance of contact while making said pass. The penalty relegated Elliott to a finish of eighth in the main event, after finishing in the runner-up position in his semi-final contest.
Pastrana – who captured the series' championship in 2021 – has been working hard to get NASCAR drivers into the Nitro Rallycross series, with Kyle Busch also competing in the series event at Phoenix last season, finishing fourth.
"As we gear up for the U.S. we're so excited to welcome back Chase Elliott for Phoenix," said Pastrana. "Having a NASCAR Cup Series champion of Chase's caliber return is so awesome, and it reaffirms our goal to challenge the best and most fearless drivers in motorsport while offering fans unparalleled racing excitement. But on race day it's absolutely game on for the checkered flag."
Scott Speed, another driver who spent an extensive period of time competing in NASCAR's top-three series, currently competes in the Supercar class for Subaru alongside Pastrana, who himself has made select starts in the Xfinity and Truck Series.