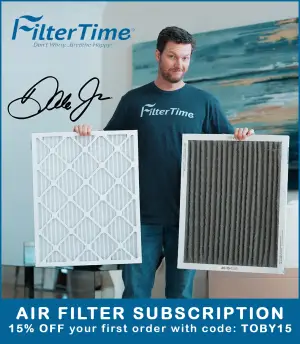 After missing out on his NASCAR Xfinity Series debut at Indianapolis Motor Speedway's Road Course by three-tenths of a second, Brad Perez is once again back for more, announcing Tuesday he'll return to the second-tier series at Watkins Glen.
Perez will get behind the wheel of the No. 35 Emerling-Gase Motorsports Toyota Supra in Saturday's Sunoco Go Rewards 200 at the 2.45-mile road course, with sponsorship backing from Weiss Sand & Clay, Mountain View Property Management, and Dusty Pete's Gifts and Collectibles.
"I have to give a huge thanks to Patrick Emerling for this opportunity. This is his home race and he still let me do this, means the world to me," Perez told TobyChristie.com. "Joey Gase was really the catalyst of this and we really wanted to put a deal together a few months ago and I'm glad we finally were able to."
Just one season ago, Perez began his journey to break onto the NASCAR National Series scene at Watkins Glen International, making his ARCA Menards Series debut for Josh Williams Motorsports, netting a 24th-place result.
In the time since, the 25-year-old has competed in a pair of NASCAR Camping World Truck Series events, scoring a pair of top-22 results for Reaume Brothers Racing at Circuit of The Americas and Sonoma, driving the No. 43 Toyota Tundra.
"Big thanks to Weiss Sand & Clay, they're a local business from the Houston, Texas area, a friend of the Apex Coffee Roasters family," Perez continued. "They're one of many small businesses on this car, which is kinda my entire vibe, underdogs trying to be on a big stage."
Much like Indy, Perez will have to qualify for Saturday's NASCAR Xfinity Series event, with qualifying scheduled to occur the morning of the event, Saturday, August 20. With the entry sitting 30th in NXS OP, the possibility exists for the Hollywood, Florida-native to fall back on a provisional should he need it.
Mountain View Property Management – a business local to the Catskills region of New York – will also adorn Perez's No. 35 Toyota GR Supra at Watkins Glen. Mountain View is a rapidly-growing family business that offers year-round services for residential, commercial, and vacation properties, including lawn maintenance, landscape design, snow removal, home checks, and construction.
"Last but not least we have Dusty Pete's Gifts and collectibles hopping on board. A small trading card and gift shop in Auburn, NY. A great group of businesses, hope to make them proud this weekend in the beautiful Finger Lakes region of New York."
The 2022 Sunoco Go Rewards 200 at Watkins Glen International is scheduled to take place on Saturday, August 20 on USA Network.