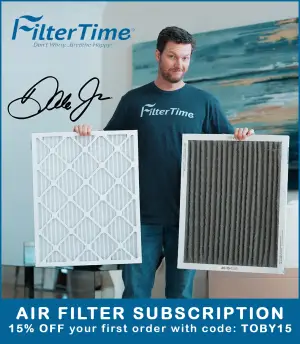 TORONTO — Scott Dixon's win at Sunday's Honda Indy Toronto was his 52nd win in IndyCar competition, putting him equal with Mario Andretti for second all-time on the IndyCar racing wins list. That's cool with Andretti, who scored his final win back in 1993, just over a month after turning 53 years old.
Utmost respect for my friend @scottdixon9 and truly happy to congratulate him on 52 wins. Also congratulate his team because nobody does it alone. I hope this is just a step on your continuing journey. Well done. @IndyCaronNBC

— Mario Andretti (@MarioAndretti) July 17, 2022
Dixon, who himself is less than a week away from turning 42 years old, was blown away when he heard the contents of that tweet read aloud in the post race press conference.
"It means a lot. I love Mario. I love Mario for so many reasons, what he's done in the sport, achieved, what he gives back to the sport," Dixon said. "It means a lot to me, to even be mentioned in the sale conversation as these greats. I never thought it was possible. For me, it's a huge credit to obviously the team that I work with now, but also the team that I started with, whether it was mum and dad to my brothers and sisters, all of my family, to the Scott Dixon Motorsport Group, which were the founders of getting a group together to put forward money and enable to get me to where I am today.
"As he stated, it's a team effort. But those words from Mario mean everything to me."
Only AJ Foyt has more IndyCar wins with 67.
The No. 9 Chip Ganassi Racing Honda led 40 of the race's 85 laps to give the six-time IndyCar champion his fourth victory at Toronto.
Dixon started second alongside eventual second place finisher Colton Herta and got around the No. 26 Andretti Autosport Honda after the first pit stop sequence. Herta had just left the pits on Lap 19 and Dixon made what would be the race-winning move going into Turn 1, picking up what was eighth place at the time. Eighth eventually became the lead after everyone else cycled through their pit stops.
Three restarts following full course yellows in the second half of the race and saving a bit of fuel did not put Dixon into any peril as he led the final 24 laps to score his first win since May of 2021 at Texas Motor Speedway.
"The race itself was fairly straightforward with how the cautions fell for us," Dixon said. "My car was quite tricky to drive. We had some previous races, like Detroit, where we had a lot of understeer. Did the warmup in the morning, get to the race, a lot of understeer. I think we over-corrected for that and the car was super loose.
"Really tricky race for myself to look after the rear tires, especially on restarts to try to get going, especially in traffic behind (Rinus) VeeKay there for a little bit."
Dixon's victory couldn't have come at a better time for the Chip Ganassi Racing organization. Earlier in the week, CGR announced that the team was picking up Alex Palou's contract option for 2023 and that he would remain at CGR for one more season. Palou said that the quote used in that press release was fabricated and announced he was leaving the team after the 2022 season.
Minutes later, McLaren announced that they had the Spaniard under contract for 2023, without announcing what series the 2021 IndyCar champion would race in. The Ganassi team have said that Palou is still under contract for 2023, leading to a messy contractual situation.
"It's not the first time. I think it's never about the errors or anything, it's about the comeback and how you get yourself back to the top," Dixon said. "As everybody knows, it's never one person, it's a whole team. […] I think the way that everybody sticks together, pulls back and fights, that's what makes the difference."
With many distractions around the organization, Dixon got the team back into victory lane when the team and Honda needed it most. Honda also have the naming rights to the races at Barber Motorsports Park and Mid-Ohio Sports Car Course, but Pato O'Ward and Scott McLaughlin gave Chevrolet victories at those two respective races.
"I think it's very important to have the support that we do from our manufacturer," Dixon said. "Yeah, of course without them we wouldn't have been able to win today."
Dixon's win elevates him from sixth to fifth in the points, 44 points behind teammate and 2022 Indianapolis 500 winner Marcus Ericsson, who finished fifth just ahead of Palou. The victory also extended Dixon's streak of scoring at least one victory in IndyCar competition to 18 seasons.