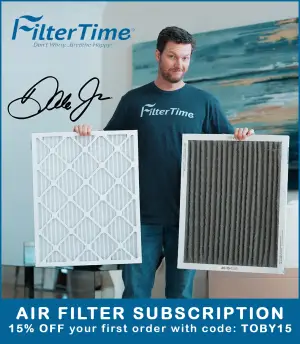 Post-race inspection following Saturday's NASCAR Xfinity Series Crayon 200 at New Hampshire Motor Speedway has been completed.
Justin Allgaier's race-winning No. 7 BRANDT JR Motorsports Chevrolet Camaro has passed. As a result, NASCAR has declared Allgaier and his team the official winners of the race. This officially marks the third win of the 2022 NXS season for Allgaier and this is the 19th win of Allgaier's career in NASCAR Xfinity Series competition.
The Riverton, Illinois-native has recorded at least three wins in three of the last five NASCAR Xfinity Series seasons.
In post-race inspection, the third-place finisher of the race, Landon Cassill, was disqualified for his No. 10 car not meeting the minimum height on the rear of the car, while the No. 9 car driven by Noah Gragson to a fourth-place finish was disqualified for failing to meet the height requirement on the front end of the car.
Cassill and Gragson will be scored with a 37th and 38th place finish.
Trevor Bayne officially came home in the runner-up position, while Brandon Brown, Jeremy Clements and Sheldon Creed rounded out the top-five finishers in the race.
---
Race Results
---
Driver Standings
---
Owner Standings
---
Race Recap
Justin Allgaier Captures Third Win of 2022 in Wild Xfinity Series Race from New Hampshire
---
Video Highlights / Other Race Stories
Video: Julia Landauer Gets Turned by Justin Allgaier in NASCAR Xfinity Debut at New Hampshire
Video: Sheldon Creed, Josh Berry Trigger 11-Car Wreck, Ryan Sieg Nearly Somersaults After Contact from Jeb Burton
Video: AJ Allmendinger Triggers Crash With Labbe, Which Ends With Brandon Jones Taking MASSIVE Impact