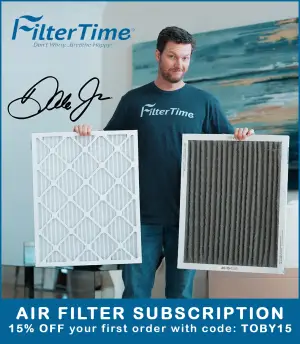 TORONTO — With a racing helmet imploring others to "Fight Like a Preemie" as he did at local Sunnybrook Hospital in 2000, Devlin DeFrancesco took that message to heart to earn his best starting position in his NTT IndyCar Series racing career.
Racing through streets just 10 miles from his premature birthplace through Exhibition Place, DeFrancesco qualified the No. 29 Andretti Steinbrenner Autosport Honda in 12th position for Sunday's Honda Indy Toronto.
The Canadian's official time is 1 minute, 14.8882 seconds to average 85.856 mph around the 11-turn, 1.786 mile street circuit. However, that time is shown as the result of a penalty for qualifying interference.
DeFrancesco locked up his tires going into Turn 1 in the second round of qualifying and had to drive on the external path around Turn 2 to rejoin the track in a break in the wall. The rookie rejoined the track almost in front of teammate and eventual polesitter Colton Herta. Race control deemed that DeFrancesco did interfere with Herta, thus eliminating DeFrancesco's best lap time of 1 minute, 0.9594 seconds from the timing screens.
The entrance to the circuit after Turn 2 is at a very quick part of the track with little to inform drivers in that runoff about approaching cars.
"It's something we brought up in the driver's meeting," DeFrancesco said in the post-qualifying press conference. "When you're entering back on track like that, for us, we can't see anything, it's blind. There needs to be a light entry flashing blue to let us know there's cars coming or open up the walls so we can see. A bunch of different things we can do coming back next year. I couldn't see anything."
Herta understood what took place because a similar thing had happened with him in the second practice session.
You just have to go out and exit as far left as you can, unfortunately," Herta said. "I think it's something that IndyCar is looking at for next year to alleviate some of the pain of that. Yeah, for sure it could be a killer in a qualifying session if you just go into a runoff that has an outlet and you get a penalty because you don't know who's coming."
Because DeFrancesco would not be allowed to advance to the Firestone Fast Six, the Andretti crew kept the rookie in the pits to save a set of the red sidewall alternate compound tires from Firestone for the race. These tires are softer than the black sidewall primary compound and give more grip, but are prone to wearing out sooner.
Earlier in the qualifying session, DeFrancesco set the second fastest lap time in the second group of the first round of qualifying. However, a major lockup going to Turn 3 put the car's nose in the tire barrier. While backing up from the tire barrier, defending IndyCar Series champion Alex Palou crawled to a stop at the start of the backstretch, bringing out the red flag.
"Just a front lockup," DeFrancesco said of his incident. "Was able to get away from it unscathed. The one that was a bit more annoying was the lockup in one and having to rejoin."
Because of the red flag that came out for Palou's stopped car, DeFrancesco avoided any penalties for qualifying interference. Once race control threw the red flag for the halted No. 10 car, any cars that were on qualifying laps wouldn't have been able to finish them and those times therefore didn't matter. 
DeFrancesco's next fastest time was 1 minute, 3.1758 seconds. Instead of starting 12th, DeFrancesco would have been in 24th place had his best lap been disallowed.
Moving back to the start of the weekend, DeFrancesco began the Toronto race weekend by unveiling a special helmet and race suit in the Racing for the Tiniest Babies Foundation launch. The foundation supports the Sunnybrook Hospital NICU where DeFrancesco spent the first few months of his life after being born 15 weeks premature. DeFrancesco's family is matching all donations up to $250,000 for the Sunnybrook Women & Babies Program.
The 85-lap race will air live exclusively on Peacock starting at 3:00 p.m. ET with the green flag coming out 30 minutes later.