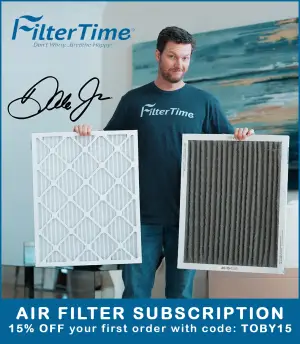 Christopher Bell – competing full-time in the NASCAR Cup Series for Joe Gibbs Racing — will join the increasing list of talented dirt racers that will be competing in the NASCAR Pinty's Series event at Oshweken Speedway on Tuesday, August 16.
The 27-year-old will pilot the No. 64 Wight Motorsports entry in the 100-lap contest, the seat that Mark Dilley usually occupies. However, on this special occasion, Dilley has stepped aside to allow Bell to compete.
Bell, a native of Norman, Oklahoma, has one previous start in the NASCAR Pinty's Series, driving for 22 Racing at Bowmanville in 2017, which was at that time, a companion event to the NASCAR Camping World Truck Series.
The Pinty's 100 – which marks the Canadian-based series' inaugural event on a dirt track of any kind — is scheduled to feature a myriad of successful dirt racers from all across North America, including multiple drivers from NASCAR's National Series.
Stewart Friesen and Ken Schrader – both winners in the NASCAR Camping World Truck Series — will be competing alongside Bell in the event, as they look to take advantage of their dirt expertise to score a victory.
"Stewart Friesen is one of Canada's greatest racing exports," said Clinton Geoffrey, General Manager of Ohsweken Speedway. "We're bringing him home to compete, and Ken Schrader also secured a ride for the event."
In addition to competing in Tuesday's NASCAR Pinty's Series event, Bell will also compete in the winged sprint car for Hill's Racing Team on Monday, August 15.