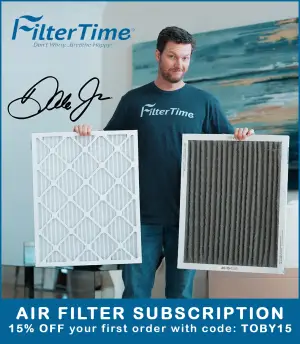 When looking at the results that Parker Kligerman has been able to put forward over the last couple of seasons, you would be hard-pressed to find a single person that disagrees with the notion that the 31-year-old is deserving of another full-time opportunity.
Kligerman, who has spent the last six years competing for multiple teams across all three of NASCAR's National Series, has left a lasting impression on many industry members, as a result of his ability to overperform whenever he gets an opportunity.
For that reason, Kligerman's third triumph in the NASCAR Camping World Truck Series at Mid-Ohio wasn't necessarily a surprise, but rather a wake-up call, that both Kligerman and Henderson Motorsports are capable of winning on a consistent basis.
Leading a race-high 56 of 67 laps at the 2.258-mile road course, Kligerman led more laps in Saturday's O'Reilly 150 than Henderson Motorsports has led in their entire tenure in the NASCAR Truck Series.
Mid-Ohio marked the first time in five years that Kligerman has visited victory lane in NASCAR, while also marking the maiden victory in what the Stamford, Connecticut-native is very open to calling his 'second chance'.
Joining Henderson Motorsports – a part-time, family-owned team in the NASCAR Camping World Truck Series – at the end of 2016, Kligerman made 18 total starts in the series from 2017 to 2019, collecting one win, two top-five, and eight top-10 finishes.
However, heading into 2020, things weren't looking positive for Kligerman, after being shuffled out of his part-time ride in the NASCAR Cup Series, in favor of Gaunt Brothers Racing's full-time bid with Daniel Suarez. On top of that, Kligerman had received word that Henderson Motorsports was planning to shut down.
"Two years ago, my Cup deal went away, the Hendersons called me and said they were shutting down, and for the first time in my life, 29 years old, I basically looked in the mirror and thought 'Okay, that's it. This is over. Everything you've done since you were nine years old, everything you've dreamt about, thought about, set your life up to do, is gone,'" Kligerman said.
Later that year, Kligerman, working solely as a TV personality for NBC Sports, got a phone call that revived his barely-deceased career, beginning an era that Bob Perona – Kligerman's former manager and driver coach — refers to as his 'second career'.
That phone call came from the Hendersons, who decided to pivot their plans and return to racing in the NASCAR Camping World Truck Series, making their season debut at Pocono.
Kligerman's near-ejection from the ranks of NASCAR's top-three series offered up an entirely different mindset for the then 29-year-old while standing on pitlane: "Enjoy every second because now you know what it's like without it, you know it can disappear."
"I don't know if it unleashed something inside of me, maybe took away some of what was holding me back, I don't know, but I feel like I've been driving better than I ever have, ever since, and this team has risen up as well, we've just been building and building and getting better and better and finding ways to improve and it's lead to this moment."
After that moment of self-reflection, the already-impressive results from Kligerman have become even more impressive, spreading to more than just the NASCAR Truck Series, as well.
Since 2020, Kligerman and Henderson Motorsports have competed in 27 races together, netting six top-five and 13 top-10 results, more than the team had accumulated throughout its prior seven seasons.
In the NASCAR Cup Series, Kligerman returned to Gaunt Brothers Racing for a one-off at Kansas Speedway last season, earning an impressive top-20 result. Similarly, earlier this season at COTA, Kligerman recorded a 12th-place finish for first-year team Emerling-Gase Motorsports.
"It's funny, in life you have people who are really good early on, and then there are late bloomers. Maybe I'm a late bloomer, I don't know," said Kligerman.
Despite putting together impressive results over the last three years, the one thing that has effectively prevented Kligerman from returning to NASCAR's National Series full-time – with Henderson Motorsports and/or with other teams in other series — has been sponsorship dollars.
"I felt like I've been so close to an opportunity for the last eight years, almost every year, like so close that I've had meetings with my bosses on the TV side and said 'okay, this is happening, what do we have to do? Are you guys cool with this?' It's been that close, so I've been trying."
Could that full-time opportunity that has alluded Kligerman for nearly a decade come in the form of a full-season schedule in the NASCAR Camping World Truck Series with Henderson Motorsports? Kligerman says it's being worked on.
"I think winning is always big," Kligerman said on Saturday. "There's been a lot of effort to try and make this No. 75 go full-time next year, which would be easy to mix in with the TV side,  it'd be really cool and I'd love that opportunity. I think it would be so fun, to go and race for a [Truck Series] championship again. Or, if it's in another series, one of the other [two] it becomes harder to see or figure out that mix."
"I think IRP was a little bit up in the air, but this might change that, so we'll see," Kligerman continued. "We gotta be smart. Don Henderson, Charlie Henderson, Chris Carrier, everyone on this team, we are pushing really hard to see if there is a possibility of being full-time next year and they want it so badly. I've wanted to do it, we've wanted it for the last couple of years, so this continues to create that momentum for our partners, the partners we're talking to, everyone out there to be like 'maybe we should make this happen' and see if we can all put it together."
As for the remainder of this season, Kligerman will have at least three – maybe four – opportunities to bring Henderson Motorsports back to victory lane in the NASCAR Camping World Truck Series, and make a case for a potential full-time tenure in 2023.
The No. 75 Chevrolet Silverado will return to the NASCAR Truck Series at Bristol, Talladega, and Homestead, with the possibility of the truck competing in the series' return to IRP.