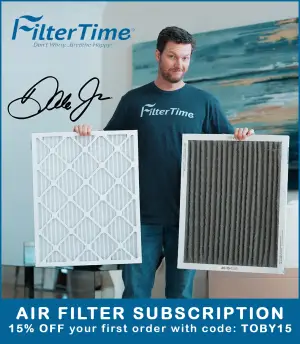 Light rain in practice prepped the NASCAR Camping World Truck Series drivers and teams for a dampened track surface during qualifying. As a result, some of the best drivers in the series struggled for grip which resulted in poor starting positions ahead of Saturday's O'Reilly Auto Parts 150 at the Mid-Ohio Sports Car Course.
Due to the soaked conditions, Friday's qualifying session was canceled after the first round of competition. Throughout the 30 minutes of on-track time, an estimated 28 spins were accounted for amongst 16 drivers. Most of the incidents were spins.
Typically, Zane Smith, Chandler Smith, Ty Majeski, Christian Eckes and Grant Enfinger are among the fastest drivers on a week-to-week basis in NCWTS competition and they showed strength in Friday morning's practice which had a drizzle that sprayed the 2.258-mile road course with minimal rain. However, the wet conditions during qualifying did not let them reach their full potential.
Chandler Smith contributed the most to the tally of spins in qualifying, as he lost control of his truck four times — most of anyone — which handed him a 31st starting spot. He stuck the No. 18 Kyle Busch Motorsports Toyota Tundra in the gravel trap and brought the session to its first red flag.
None of the championship contenders are starting further on back than 31st, where Smith will roll off. In the two previous road courses from the Circuit of the Americas and Sonoma Raceway there is promise that he can overcome and deliver, in both races he placed fifth.
A career year in the upper echelons of stock car racing for Ty Majeski has shown the short track racer can excel on all types of tracks. The No. 66 ThorSport Racing Toyota Tundra rolls off 21st and his only event not finished this season was COTA where a 30th place finish was earned.
Sonoma had a different tale to be told as the 27-year-old scored a third place finish with four laps led on the board. In the single practice, Majeski was eighth quickest. With weather expected to play a much lesser role on Saturday, it could bode well for Majeski knifing through the field.
Christian Eckes starts 20th in the No. 98 ThorSport Racing Toyota Tundra and his best career finish of sixth on a road course came earlier this year at COTA. Between him and his teammate, Majeski, they both have had strong runs at the opposite circuits.
Eckes finished 35th after a crash in Stage 2 at Sonoma. ThorSport had all four of their trucks with similar speed as their youngster slotted into ninth fastest during practice.
Two drivers that showed pace prior to qualifying both have starting positions just outside the top 10.
Grant Enfinger and Zane Smith both had top five speed in practice along with starting positions just outside the top 10, 11th and 12th. Enfinger was one that went for multiple spins during qualifying yet placed fourth in practice as Smith was atop the field earlier in the day.
The No. 23 GMS Racing Chevrolet Silverado of Enfinger posted a 10th place result at COTA with an 11th from Sonoma. He translated those finishes from starting in the top 15 on both occasions.
Zane Smith grabbed his first checkered flag of three this season at COTA, where he was out front for three laps and started deep from the 20th-position. Despite Mid-Ohio being a narrow track with constant elevation changes, the Front Row Motorsports driver is optimistic about his chances to bring the No. 38 Ford to the front.
"Sucks," Smith said of his qualifying run, via FOX Sports. "I don't know where I'll start now, 11th, 12th or something. At a place that's super hard to pass, but we'll do our best. I know in the dry we have a really fast BootBarn (sponsor) Ford. So, we'll give it our all and hopefully maintain this points lead."
Furthermore, this is the debut weekend for the venue on the series' schedule where crew chief's notebooks are empty and most drivers have only relied on the simulator before this weekend. Those factors could lead to an unpredictable race and could help the drivers starting out back.
Coverage for the O'Reilly Auto Parts 150 from Mid-Ohio will start at 1:30 pm ET and will be broadcasted live on FS1.