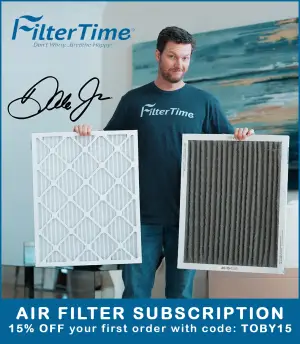 Kyle Tilley, who ran three NASCAR Cup Series events with Live Fast Motorsports during the 2021 season, will make his first start of the 2022 NCS season for the organization in the upcoming Kwik Trip 250 at Road America.
Live Fast Motorsports made the announcement of the road course ace returning in a press release on Wednesday.
"Our team is super excited to have Kyle Tilley back behind the wheel of Live Fast Motorsports' Ford Mustang at Road America," said driver and Live Fast co-owner, B.J. McLeod. "Tilley is a very talented road course driver and we are eager to watch his return."
Tilley, who hails from Bath, England, will have a patriotic red, white and blue No. 78 Ford Mustang in the race with sponsorship from The Patriot Military Family Foundation (PMFF), which is an organization that supports active-duty military, their dependents and veterans.
"Very excited to be returning to the NASCAR Cup series with my friends BJ McLeod, Matt Tifft & Team Live Fast! The opportunity to drive the Next Gen car is one that I'm relishing, and I'm hopeful that it will suit my driving style. I love Road America so the two combined is going to make for a great weekend. A big thank you to the Patriot Military Family Foundation and Brush Creek Valley Farms for making it happen."
For the PMFF, it's an honor to be partnering with Live Fast Motorsports and a road racer of the caliber of Tilley.
"It's a true honor to partner with Live Fast Motorsports with Kyle Tilley behind the wheel at Road America for the Fourth of July Weekend," said Chuck Swannack, Major General, U.S. Army (Retired) and PMFF President. "To have our patriotic logo on the No. 78 Ford Mustang will raise awareness for our non-profit and help us to provide support services to U.S. Armed Forces families who are struggling. We're grateful for the opportunity to partner with Live Fast Motorsports and look forward to celebrating with Kyle in Victory Lane!"
Tilley's best finish in three previous NASCAR Cup Series starts with Live Fast Motorsports was a 30th-place effort last year at Watkins Glen International.