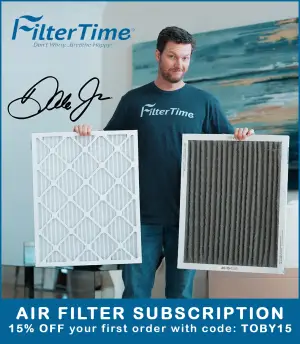 It has been two seasons since Daniel Suarez last had a teammate in the Cup Series, but that could change in 2022 if Trackhouse co-owner Justin Marks' vision becomes a reality.
Appearing on SiriusXM NASCAR Radio on Wednesday, Marks discussed the long-term goals of the new organization. Most notably, an expansion in 2022 is "very much in the picture."
ICYMI: @JustinMarksDG joined @DGodfatherMoody and said @TeamTrackhouse has its sights set on expansion in 2022. pic.twitter.com/G4XOtTWp1l

— SiriusXM NASCAR Radio (Ch. 90) (@SiriusXMNASCAR) June 9, 2021
As quoted on SiriusXM, "We're starting to communicate with other drivers in the sport and other stakeholders in the sport to see kind of like what the landscape looks like and start to build a plan around that."
The one-car operation has shown some impressive results for their debut season, with Suarez scoring multiple top 10 finishes and their best finish of fourth coming at the Bristol Dirt Race. Additionally, Trackhouse has seen a number of partners join their team in their inaugural season including Camping World, iFly, CommScope, and Freeway Insurance.
While silly season starting early, who could move over to the second Trackhouse car? It's way too early to know; however, Chip Ganassi Racing's Kurt Busch acknowledged on SiriusXM NASCAR Radio with Claire B Lang that both Trackhouse and 23XI have reached out regarding 2022. The 2004 Cup Series champion does not have a deal signed for next season as of this publishing.
"Talks are going to start here at @CGRTeams first. I respect Chip and I respect this team."

Don't miss @KurtBusch w/ @ClaireBLang TONIGHT at 8:30 PM ET on #DialedIn.

Is @23XIRacing or @TeamTrackhouse in his future?@TXMotorSpeedway | #AllStarRace pic.twitter.com/hk670lE2OV

— SiriusXM NASCAR Radio (Ch. 90) (@SiriusXMNASCAR) June 9, 2021
With Monster Energy likely to follow Busch to his next venture, his signature on paper could be one of the hottest commodities of silly season. Monster served as the primary for 30 races for the Las Vegas driver last year, with Gearwrench taking the remaining six races. Compared to 2019, Monster Energy took on an additional nines races, up from 21. Busch reaffirmed that any serious talks for 2022 will start at Chip Ganassi Racing first before exploring other options.
Expansion is great news for a team, and the sport – but there is a glaring issue on the horizon. There are only 36 charters in the Cup Series, which grant the holder automatic entry into every points-paying Cup Series race. Trackhouse is currently leasing its charter from Spire Motorsports, and as of March of 2021, Marks has been working tirelessly to acquire ownership of a charter for 2022.
Trackhouse Racing co-owner Justin Marks is leasing a charter for this year. He already is working on acquiring a charter for next season. The quest keeps him up at night. He explains: pic.twitter.com/y5W0fVP7L3

— Bob Pockrass (@bobpockrass) March 31, 2021
"I lose a little bit of sleep every single night because we don't own a charter," Marks told FOX Sports' Bob Pockrass. "That is the biggest element of exposure for this company, in this sport. I am working every day in the direction of trying to secure our future by orchestrating ownership and acquisition of a charter. It is not getting easier; it is getting harder."
It looks like the theme of the 2022 NASCAR Cup Series season will be focused on growth, and it's not just with Trackhouse. Kaulig Racing has confirmed their plans for 2022 as they will field a Cup car with a driver to be determined later. As for the rumored rides, both 23XI and JR Motorsports could add to the Cup Series.
With only 36 charters available and no confirmation of NASCAR expanding the field, they'll be a hot buy heading into the era of Next Gen.