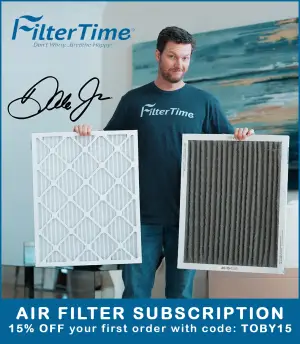 The 2022 NASCAR Cup Series season is already shaping up to be one for the record books, with the recent unveiling of NASCAR's NextGen car that will debut next season, as well as the increased interest in competing at NASCAR's top-level from race-winning organizations like Kaulig Racing.
Initially mentioned a few weeks back, it appears that JR Motorsports – which fields the No. 1, No. 7, No. 8 and No. 9 full-time in the NASCAR Xfinity Series — may potentially be interested in entering NASCAR's top-level in 2022, according to a set of recent tweets from Adam Stern of Sports Business Journal.
.@JRMotorsports, which won today's Xfinity race at Darlington, is still having internal talks about the possibility of starting a Cup program, @DaleJr told SBJ yesterday.

🗨: "We're motivated to learn whether this is the time to do it or not. I think it's probably now or never." pic.twitter.com/4uDO9yqnhk

— Adam Stern (@A_S12) May 8, 2021
Dale Earnhardt Jr – co-owner of JR Motorsports — told Sports Business Journal on Friday that the organization is "motivated to learn whether this is the time to do it or not," continuing to say "it's probably now or never." Obviously, with the implementation of the NextGen Car ahead of 2022, it seems like a natural entry point for a team like JR Motorsports to make their first venture into the Cup Series, but at the same time, it's also way more complicated than that.
.@DaleJr: "We're having a lot of great conversations with people in the industry about whether this would work for us. We've got a lot of confidence in our ability to run a race team….The hurdle is really whether you can make the financial numbers work and acquire the charter." pic.twitter.com/9rjjT8joH4

— Adam Stern (@A_S12) May 8, 2021
The potential migration to the NASCAR Cup Series for JR Motorsports can be narrowed down a pair of key factors in the current climate of racing at NASCAR's top-level. Firstly, the financial weight of the move is guaranteed to be a staggering one, made even more dramatic by the implementation of the new car for 2022. That, along with the general increased cost of running in Cup versus Xfinity is a hurdle that will require additional sponsorship for the organization.
However, even if that additional funding can be found for JR Motorsports, it still comes down to the ability to acquire a charter – through the purchase or leasing of one from another organization — in order to ensure that they will receive a worthwhile portion of the purse and lock themselves into every event. While teams like Live Fast Motorsports, 23XI Racing and Trackhouse Racing had no issues acquiring charters in advance of this year, early indications have interest to compete in the NASCAR Cup Series at the highest it has been in a longtime, which could make the charter acquisition process not only difficult, but pricey.
While there have been no official indications of JR Motorsports looking to acquire a charter from anyone at this point, it is possible we see the championship-winning organization in the NASCAR Xfinity Series sniffing around to see if there are any potential options for them entering 2022.
Noah Gragson, Justin Allgaier and Josh Berry have all proven to be contenders in the NASCAR Xfinity Series over the last two seasons, collecting wins in the second-tier series. So, if the team does expand to the NASCAR Cup Series, who would get the nod?