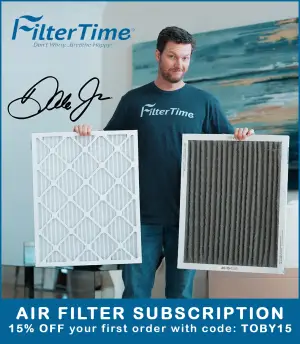 Saturday night's NASCAR Cup Series Federated Auto Parts 400 at Richmond Raceway went caution-free, aside from the regularly scheduled competition caution and two Stage break cautions, yet the race was not dull, it was not boring and there was plenty of passing on the track throughout the duration of the event.
It was a refreshing race. For once, we saw an actual race play out in a natural manner without. It was a rare occasion where you didn't walk away from the television broadcast feeling like watching the first 90-percent of the race was pointless. Too many times, you watch a NASCAR race these days and become invested in what's happening, only to see the entire race get flipped on it's axis within the final 10 laps due to a late-race caution followed by a frantic green-white-checkered finish, where guys just push, shove and crash each other out of the way.
Don't get me wrong, I love the occasional wacky finish like Kentucky Speedway, where rookie Cole Custer went four wide out of nowhere to take the win in a green-white-checker finish, but when you get finishes like that each week, it gets ridiculous and almost feels scripted as it happens so often. Sure, you get close finishes, but only because some kind of unnatural element made it be so.
Saturday night's race was a great change of pace and without a doubt, this proves that the endless cycle of gimmicks added to the NASCAR rule book in an effort to make the races more 'entertaining' are unnecessary.
Five drivers led more than 40 laps on the night and there were more lead changes in this race (19) than there were combined in the two Richmond races a season ago (14).
Sure, Brad Keselowski nearly led half of the race (192 laps led of 400), but there were varying pit strategies throughout the night as there was significant tire fall-off, which put a premium on fresh rubber. However, it also gave teams toward the back new hope at stealing a win by limiting themselves to less stops at the risk of more laps on the track on older tires.
Ultimately, the less stop strategy did not pay off, but the fact that the race lent itself to more than one strategy was compelling to keep up with.
Add into the equation that there were several legit players for the win — including an unexpected rise of Playoff Cinderella story Austin Dillon, who now has two top-five finishes to start the Playoffs, and you had something special.
Not only that, but even without a 15-foot tall spoiler and some added horsepower, Keselowski — or whoever the given leader was at the time — didn't get too strung out. At the end of the race, Keselowski had just a 1.5-second lead. Without the help of a debris caution. The race was truly captivating from start to finish.
There was no NA18D package, no big crash, no wave arounds, no green-white-checkered finish and no cautions other than the scheduled ones from NASCAR. Yet, the race was still incredible.
Maybe, just maybe, NASCAR should get away from the business of entertainment and get back to the business of sports because Saturday night's race at Richmond was one of the more entertaining events of the season for me. For one night, I felt like I was watching the NASCAR of my youth and I loved every minute of it. This is what I originally fell in love with back in 1993.