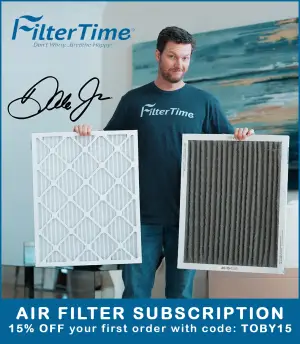 Quin Houff made an egregious error in Sunday's NASCAR Cup Series O'Reilly Auto Parts 500 at Texas Motor Speedway. With 28 laps left in the race, Houff attempted to cut across three lanes of the track in turn four in an effort to reach pit road.
This is a move that you wouldn't think you'd have to explain as a bad idea to any race car driver, but within the confines of a race car strange decisions are made sometimes. Unfortunately, for Houff and everyone else, Christopher Bell was down in the bottom lane. Needless to say, this didn't end well.
If you haven't seen the incident yet, here it is:
This crash changed everything.

Quin Houff crashing while trying to pit. pic.twitter.com/wszQbNvzjk

— NASCAR on NBC (@NASCARonNBC) July 20, 2020
This wadded up Houff's No. 00 StarCom Racing machine, and also ruined the day of Bell and Matt DiBenedetto, who had a solid day until the incident. But it had larger implications, as this is what allowed the two Richard Childress Racing cars to gamble on pit strategy for track position, which led to a 1-2 finish for the organization (their first since October of 2011 at Talladega).
It was a bad crash, yes, and a horrible decision by a driver at the top level of NASCAR. However, it's important to note that it wasn't something we haven't seen before. I recall Kevin Harvick during his sophomore season in 2002 making the same exact error during an event at Auto Club Speedway.
Nobody called into question Harvick's credentials for driving in the NASCAR Cup Series after that incident. Yet, following Sunday's race at Texas, Houff's status in the series came into question by many of the sport's biggest drivers. Brad Keselowski even went as far as to suggest that there should be some type of iRacing style safety rating, which could promote and demote drivers to and from the Cup Series.
"I have nothing personal against anyone that has an issue like that because they do happen from time to time, but there are certainly a handful of drivers that kindly I wonder exactly how they got to this level," Keselowski explained "Part of it plays into all the rules. When you've got this rules package with cars that are super-easy to drive by themselves, it's very hard for NASCAR, I think, to be able to tell who's got it and who doesn't.
"So it kind of puts them in a box until you actually get in a race, but one thing I would like to see, and I think I've been pretty consistent with this, is I would like to see drivers be able to graduate into this level and equally I'd like to see them be able to be removed from this level when they have repeated issues. I can't speak enough to the gentleman that had that issue today, but I have seen in the past where drivers that have had this issue multiple times somehow are still here, where I think they should effectively be placed in a lower series or asked to go back to a more minor league level to prove their salt. But that's ultimately not my decision to make."
Keselowski has an interesting thought, but what would be the criteria for a driver demotion to a lower series? While I am in no way defending Houff's accident (how could you), I am also having a hard time seeing where there would be a true merit-based form of a system that would decide who stays and who goes fairly.
I mean, think about it.
If someone makes a silly move like Houff did on Sunday, are they out immediately? If so, what about drivers like Matt Kenseth, who took out Joey Logano a few years ago at Martinsville in retaliation? Sure, he was suspended by the sanctioning body for that move, but he wasn't ousted totally from the Series. Would that same move send someone back a step under Keselowski's proposal?
If so, Justin Haley and Noah Gragson, who have been accused of crashing drivers on purpose this year in the Xfinity Series, what would happen to them?
I don't think one single incident can or should have the power of booting someone totally from a Series. That being said, you would have to take into account their full body of work and come up with a rating system of sorts, but that opens a whole new can of worms.
For instance, if you just look at who has been involved in the most incidents this season, the list would probably surprise you.
Before we do that, though, let's surprise you even further by starting with the good side of things, your safest drivers on track (so far) in 2020.
*Note: Official NASCAR tracking of which cars are involved in accidents that bring out cautions on the track in post-race race results formed these stats. I also added the cars that were involved in the pit road crash at Indianapolis earlier in the year, as that crash happened while the race was already under a yellow flag and wasn't counted in NASCAR's official incidents for the race.
Top-11 full-time drivers with the least Accidents Per Start (APS):

JJ Yeley, 0.00 APS
Corey LaJoie, 0.06 APS
Daniel Suarez, 0.06 APS
Garrett Smithley, 0.07 APS
Timmy Hill, 0.11 APS
Kurt Busch, 0.17 APS
Kyle Busch, 0.17 APS
Matt DiBenedetto, 0.17 APS
Kevin Harvick, 0.17 APS
Brennan Poole, 0.17 APS
Bubba Wallace, 0.17 APS
You see a few names you come to expect among the top of this statistical category like Harvick and the Busch brothers, but you also have guys like Timmy Hill, Garrett Smithley, JJ Yeley among the very top of the list. At the mid-way point of the 2020 season, Yeley is the lone full-time driver to still not be involved in an official NASCAR accident during a points paying race this season.
Surprising, isn't it?
I know, I know. We don't see Houff represented, so, surely, he would be among the lowest of the low in the series in APS, right? And he'll be surrounded by all of the less than favorable drivers, right?
Eh, wrong.
There is a three-way tie for full-time drivers with the highest APS in 2020.
The top spot belongs to John Hunter Nemechek, Matt Kenseth and Chris Buescher, who each are sporting a 0.50 APS. This means once every two races, these drivers are involved in an accident that brings out a yellow flag.
Trailing these three drivers are Ricky Stenhouse Jr. (0.44 APS), Jimmie Johnson (0.41 APS), Ryan Newman (0.40 APS) and Michael McDowell (0.39 APS).
Finally, we see Houff appear on the list in an eight-way tie for the eighth-highest APS for 2020 among full-time drivers.
Houff has a 0.33 APS, which ties him with NASCAR Cup Series champions Martin Truex Jr. and Keselowski, who tossed out the idea of the accident rating system. Also in the group with 0.33 APS are Ryan Preece, Erik Jones, William Byron, Ryan Blaney and Aric Almirola.
Under this criteria, if you were to boot Houff, who is involved in a caution about once every three races, you would have to do the same with the drivers tied with him or below him on the list. With 10 NASCAR Cup Series championships and 210 NCS victories represented in the list above, I don't think you'll be seeing that happen any time soon.
I seem to remember a guy named Jeff Gordon wadding up a lot of race cars as a rookie in 1993 before things finally started to click. In fact, Gordon's APS during his rookie season mirrored that of Houff's (0.33), and I think we can all agree that Gordon turned out just fine. The sport wasn't in shambles because that "punk kid" from California — or Indiana — or New York — was still on the track.
Houff is a rookie who certainly made an all-time rookie blunder on Sunday, but he owned up to it. We don't need to demote him and we certainly don't need to pile on him, either. The sport has a way of taking care of that itself. If Houff does not improve and continues tearing up race cars, no amount of money being brought in will keep him behind the wheel of the underdog StarCom Racing team, it's just business — see John Wes Townley's tenure with Richard Childress Racing.
Rookies aren't supposed to be perfect, they aren't supposed to be polished… They are rookies! Let Houff be a rookie.