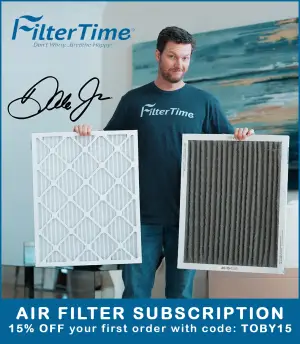 After a nine-week shutdown due to the COVID-19 pandemic that prevented NASCAR race team employees from working on race cars, the NASCAR Cup Series season is set to resume on Sunday, May 17th at Darlington Raceway (S.C.).
Cole Custer and the No. 41 Stewart-Haas Racing Ford Mustang will make the two-hour drive to Darlington, South Carolina for Sunday's 400 mile event. Custer's No. 41 Ford Mustang will adorn a new paint scheme for Sunday's event, having HaasTooling.com on board the California-natives Stewart-Haas Racing Entry.
Owned by Gene Haas, Haas Tooling was launched just weeks ago as a way for CNC machinists to purchase high quality cutting tools at great prices. Haas' cutting tools will be sold exclusively online at HaasTooling.com and shipped directly to end-users.
Sunday's event not only serves as the first race back, after a long hiatus due to the COVID-19 pandemic, but also serves as the first cup series start for rookie Cole Custer at the track they call "Too Tough To Tame". Custer will be relying on information learned from simulators, and past NASCAR Xfinity Series experience at the track, as drivers and teams will be running Sunday's race without any practice or qualifying laps.
In the NASCAR Xfinity Series, the 22-year-old has three prior starts at Darlington Raceway, all resulting in top ten starts and finishes. Custer accumulated one runner-up finish, as well as a race victory, after Denny Hamlin failed technical inspection after crossing the finish line first last September.
"I think the toughest part about it is getting prepared for the races when you only have a few days in between. When you have to go over everything from pit road, to the track, to restarts and everything in between, it makes it hard to get that all done in a couple days."

"Yes, it's definitely going to be more important than ever to talk with my teammates about what to expect going into the race. They've been some of the best to get advice from and, especially for a track like Darlington, you'll want as much advice as you can get."

– Cole Custer (SHR Media Release)