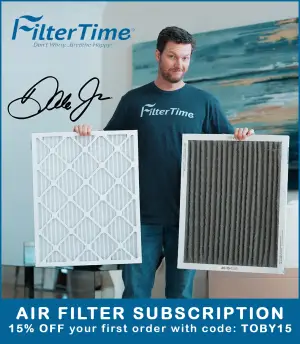 Before the season began, the staff at TobyChristie.com made twenty predictions for the 2020 NASCAR Season, spanning the NASCAR Cup Series, NASCAR XFINITY Series & the NASCAR Gander RV & Outdoors Truck Series. Two weeks in and some of those predictions have already started to unravel, while others make us look like psychics.
Without further delay, here is "The Way Too Early Review of TobyChristie.com's 20 Super Spot-On NASCAR Predictions For 2020"
2020 Daytona 500 Winner?

Toby Christie: Ryan Blaney.
Joseph Srigley: Ricky Stenhouse, Jr.
Ryan Blaney finished P2 (in the second-closest Daytona 500 EVER!) and Ricky Stenhouse, Jr. found some trouble throughout the race, relegating him to a P20 finish in the 2020 Daytona 500.
2020 Truck Series Breakout Driver of The Year?

Toby Christie: Sheldon Creed
Joseph Srigley: Tanner Gray
Although neither driver has visited victory lane yet in 2020, both Sheldon Creed and Tanner Gray showed that they would be contenders throughout the 2020 NASCAR Gander RV & Outdoors Truck Series Season at Las Vegas this past weekend. Creed was able to give Kyle Busch a run for his money, while Gray was able to hold his own, earning his first-ever NGROTS top-ten finish.
2020 NGROTS Most Wins?

Toby Christie: Ty Majeski (5)
Joseph Srigley: Brett Moffitt (4)
Through two races in 2020, neither Ty Majeski nor Brett Moffitt have found themselves in the winners circle at race end. In fact, both Majeski and Moffitt have gotten off to a rough start in 2020, with neither driver able to score a top-ten finish yet this season.
Biggest Surprise of The 2020 NGROTS Season?

Toby Christie: Jordan Anderson
Joseph Srigley: Tate Fogleman
These two drivers have really gotten the 2020 season off to polar opposite starts thus far, with Jordan Anderson coming up just short of his first ever win and scoring his first top-five finish in Daytona, while Tate Fogleman was a innocent victim in a early crash that saw Ty Majeski slid through turn No. 1 on his lid.
While Anderson hopes to continue the positive momentum from Daytona, Fogleman is looking to turn his season around, potentially eyeing Richmond Raceway as the place to make a statement.
Eldora Dirt Derby Race Winner?

Toby Christie: Chase Briscoe
Joseph Srigley: David Gravel
While the Eldora Dirt Derby doesn't even take place until the end of July, we do know that at the very least David Gravel will attempt to qualify for the race at Eldora, which is more than can be said for Chase Briscoe, who has not mentioned any intentions of him running the Dirt Dirby.
NGROTS Championship Four? (Championship Pick Bolded)

Toby Christie: Gilliland, Ankrum, Crafton & Moffitt.
Joseph Srigley: Eckes, Ankrum, Moffitt & Crafton.
In terms of our final four picks, only Todd Gilliland, Brett Moffitt & Christian Eckes sit above the cut line, while both Tyler Ankrum & Matt Crafton sit below, after the L1-penalties handed down at Las Vegas, coupled with a mid-pack finish for both drivers.
As for our championship picks, Tyler Ankrum has shown a lot of speed in the two races so far in 2020, but bad luck and mistakes have cost the No. 26 team the finishes they deserved in both races.
As for Todd Gilliland, the team showed INSANE speed at Daytona, but struggled IMMENSELY in practice at Las Vegas, showing in the mid-twenties on the practice charts. A good sign for the team? They were able to make the proper adjustments, to make that No. 38 Ford F-150 extremely fast, along with the pit crew doing an incredible job of putting Gilliland in position to come home P7.
2020 NASCAR XFINITY Series Breakout Driver?

Toby Christie: Riley Herbst
Joseph Srigley: Brandon Jones
Through two races in 2020, neither Brandon Jones or Riley Herbst have been to victory lane yet. Jones currently sits fifth in points, after fourth and sixth place finishes at Daytona and Las Vegas. Herbst sits on the opposite end of the spectrum though, after a crash and a 32nd place finish at Daytona, his top-ten finish at Las Vegas only moves him up to 16th in points, still sitting twelve points behind Ray Black, Jr. for a playoff position.
Most XFINITY Series Wins in 2020?

Toby Christie: Justin Allgaier (6)
Joseph Srigley: Daniel Hemric (5)
Neither Daniel Hemric or Justin Allgaier have been able to find victory lane yet in 2020, with Allgaier being involved in a accident at Daytona, and a solid eighth place finish at Las Vegas, Allgaier has shown some pretty good speed so far this season. Hemric showed fairly decent speed in the small preview we had at Las Vegas, but after crashing early in Stage No. 1, Hemric still has twenty opportunities to visit victory lane in 2020.
Biggest Surprise of The 2020 NASCAR XFINITY Series Season?

Toby Christie: Sam Hunt Racing & Colin Garrett 
Joseph Srigley: Tommy Joe Martins & Martins Motorsports
When we said "Biggest Surprise" we meant in a positive way, but I can surely say that I was surprised when both Tommy Joe Martins & Colin Garrett failed to qualify for Daytona with their teams Martins Motorsports & Sam Hunt Racing.
Fast forward to Las Vegas this past weekend, and Tommy Joe Martins raised some hell, running inside the top-fifteen for the majority of the race, before running into some issues, ultimately not getting the finish that the No. 44 Martins Motorsports team deserved. Expect the No. 44 team to have some great runs, and get some great finishes throughout the season.
The only potential problem for TJM and Martins Motorsports, they will be extremely low in Owner Points when we start to award provisionals based on 2020 Owners Standings, instead of 2019. If the team can start to climb the Owners Points and climb out of "The Danger Zone" in terms of qualifying, they should be able to continue the roll that they began at Las Vegas.
As for Colin Garrett & Sam Hunt Racing, the next planned race for them is Homestead-Miami Speedway in March — a race that will feature a larger number of entries than available spots, meaning that they will need to be fast enough to qualify on time because they quite simply don't have the attempts that the other full-time teams do.
Indianapolis Road Course Winner?

Toby Chrisite: Austin Cindric
Joseph Srigley: A.J. Allmendinger
Obviously this race has not occurred yet, and won't until the 4th of July weekend, but it is quite obvious that the two favorites (that are known to be entering the race) are road-course experts A.J. Allmendinger and Austin Cindric. Look for both of them to battle each other for the win come Indianapolis.
2020 NASCAR XFINITY Series Championship 4? (Championship Picks Bolded)

Toby Christie: Briscoe, Allgaier, Burton & Cindric
Joseph Srigley: Allgaier, Gragson, Briscoe & Br. Jones
Of the six drivers that are listed above, only Chase Briscoe & Noah Gragson are locked into the playoff field, with their wins at Las Vegas and Daytona. Harrison Burton, Austin Cindric, Brandon Jones & Justin Allgaier, all find themselves currently in the playoff field, with all four drivers having a pretty comfortable gap over bubble driver Ray Black, Jr.
As for our championship picks? Chase Briscoe showed absolutely incredible speed at Las Vegas, asserting himself as one of the favorites in 2020. In a high pressure season for Chase Briscoe, the early win at Las Vegas, as well as the potential for the rest of the season, has to take some of the pressure off the driver in his second year with Stewart-Haas Racing.
One potential downfall for Briscoe? No teammates. Although, so far it does not seem to be an issue whatsoever, the loss of a second Stewart-Haas Racing XFINITY car, may prove to be a disadvantage for Briscoe over teams like JR Motorsports and Kaulig Racing, as the season marches forward.
The speed Chase Briscoe had at Las Vegas has to be terrifying for the competition, especially JR Motorsports driver Justin Allgaier, who seemed to fall way off the pace of the No. 98 Ford by the end of the race. Allgaier and Co. will need to pick up the pace at the 1.5 Mile tracks if they want to remain a legitimate title contender in 2020.
2020 NASCAR Cup Series Breakout Driver?

Toby Christie: William Byron
Joseph Srigley: Aric Almirola
Through two races in 2020, William Byron has already drastically improved his results from 2019, which was a major improvement from 2018. Byron ran in the top-five and top-ten in the entire race at Daytona, until being taken out in an accident at the end of Stage No. 1, then proceeded to run very well at Las Vegas, mostly in the top-five, and was closing in on a possible top-three finish, when Ross Chastain's spin set up a late restart, that saw Byron make contact with the No. 21 of Matt DiBenedetto, causing him to bounce around the pack in the closing laps, ultimately finishing in 22nd.
Things are looking positive for William Byron and the entire Hendrick Motorsports camp, as all four cars showed significant speed throughout the race, with Chase Elliott having what seemed like the fastest car, before cutting down a tire. Chevrolet, Hendrick Motorsports & William Byron should all continue to improve as the year goes on, and the teams get acclimated to the new Camaro ZL1 1LE
On the other hand we have Aric Almirola, who had an insanely fast car at Daytona, and was a favorite to win the race, until being caught up in "The Big One". When we got to Las Vegas, many expected the same, especially with Almirola being fast in practice. When the race came, it seemed like a tale of two weekends, as Almirola struggled throughout the day, finishing the day in twenty-first after getting a pit road penalty, and falling a lap down at one point.
It seems as though Almirola and his SHR teammates are still trying to get a hold of the new aero package, as Bowyer, Custer & Almirola all seemed to struggle. Things will need to pick up soon for these teams, as before long they will find themselves in too big of a hole to dig out of.
2020 NASCAR Cup Series Most Wins?

Toby Christie: Kyle Busch (8)
Joseph Srigley: Kevin Harvick (7)
So far in 2020, neither Kyle Busch or Kevin Harvick have made it to victory lane this season. While it is still early in the season, Kevin Harvick and Rodney Childers always seem to be able to find the speed to contend for wins, despite the struggles of his Stewart-Haas Racing teammates so far in 2020.
On the other hand, Kyle Busch and his Toyota teammates struggled all weekend long at Las Vegas and were still not able to find the speed that they had in 2019. Busch was the best finisher for Joe Gibbs Racing and Toyota at Las Vegas, coming home in 15th position, a very disappointing effort for the team after winning 19/36 Races in 2019. Joe Gibbs Racing and Toyota will need to find some speed soon, if they are hoping to return to their championship form in 2020.
2020 NASCAR Cup Series Surprise Playoff Contender?

Toby Christie: Chris Buescher
Joseph Srigley: Ryan Preece
So far in 2020, Chris Buescher has shown that his move to Roush Fenway Racing, may be a wise choice. Although his replacement Ricky Stenhouse, Jr. currently sits fifth in points, Chris Buescher currently sits in the playoffs as well, currently eighth in points leaving Las Vegas, with a eleven point buffer on bubble driver Martin Truex, Jr.
On the other end of the performance spectrum we have Ryan Preece & JTG-Daugherty Racing, who, in large part because of luck, leaves Las Vegas with a huge hole to try and dig out of if he wants to make the playoffs. Preece has accumulated two straight DNF's to start off the 2020 NASCAR Cup Series Season, after a crash resulted in a 29th at Daytona, and an engine issue relegated him to 37th this past weekend at Las Vegas. Preece sits at a 41 point deficit after only two races, which he will need to make up quickly if he hopes to make the playoffs.
Outlook for Daniel Suarez & Gaunt Brothers Racing for 2020?

Toby Christie: Full Schedule, Mid-Season Top 15s & Top 10s
Joseph Srigley: May be in major trouble, need to focus on building a relationship for the major change coming in 2021.
After missing the Daytona 500, Daniel Suarez and Gaunt Brothers Racing have so far not been able to rebound from missing out on the largest Daytona 500 purse in history. Although they made it to Las Vegas, the car stalled coming to the green flag, and drew a caution on Lap 1 of the race. They got the car back going and were able to grab a P30 finish by the end of the race, but the team needs a trouble-free race soon, so that Suarez and the team can figure out what they actually have for the 2020 season and how they can make gains on performance for the remainder of the season.
Surprise Cup Series Driver Who Doesn't Win a Race in 2020?

Toby Christie: Brad Keselowski
Joseph Srigley: Martin Truex, Jr.
Through 2 Races, neither Brad Keselowski or Martin Truex, Jr. have visited victory lane.
Both Truex & Keselowski showed fairly decent speed throughout the race at Las Vegas this past weekend, despite working with new crew chiefs for the 2020 season (James Small with Truex and Jeremy Bullins with Keselowski).
Martin Truex, Jr.'s chances at a win disappeared after a string of mistakes caused the No. 19 to blow a tire, resulting in a hit to the turn four wall. Truex and Co. were able to bring the No. 19 back to finish in P20. Truex has yet to finish in the top-ten this season and currently sits on the playoff bubble headed to California.
Brad Keselowski never seemed to have race winning speed like his teammates Joey Logano and Ryan Blaney did at Las Vegas. What was looking like a nice top-five finish for Keselowski, turned into a 7th place finish, when Ross Chastain's spin triggered the final restart of the race. After Keselowski's P36 finish at Daytona, the 2012 NASCAR Sprint Cup Series Champion sits 19th in points, twelve points outside the playoffs.
2020 NASCAR Cup Series Championship 4? (Championship Picks Bolded)

Toby Christie: Logano, Harvick, Ky. Busch & Elliott
Joseph Srigley: Harvick, Hamlin, Ky. Busch & Logano
Joey Logano & Denny Hamlin have both earned their way into the playoffs for the 2020 season, with Logano going to victory lane at Las Vegas and Hamlin winning at Daytona. At this point Chase Elliott & Kevin Harvick are near locks for the playoffs, barring any major issues over the next twenty-four weeks, as they are in the top-sixteen in points with a decent gap over Martin Truex, Jr. Both Harvick and Elliott showed some very nice speed at Las Vegas, which could be a projection for the majority of the 2020 Season.
As for Kyle Busch, who currently sits 27th in points, twenty-five points behind the bubble spot, business will need to pick up, as the No. 11, No. 18 & No. 20 Joe Gibbs Racing Toyota's along with corporate teammate Christopher Bell struggled to find any speed at Las Vegas, which could be a troubling sign for Kyle Busch and Joe Gibbs Racing for 2020.