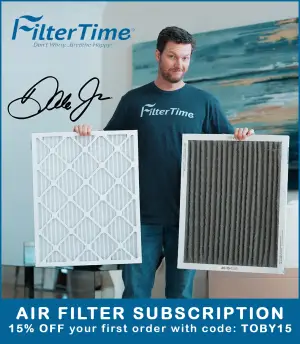 The 2020 NASCAR points-paying season officially gets kicked off on Friday, as the NASCAR Gander RV & Outdoors Truck Series will take to the track for the season-opening NextEra Energy 250 at Daytona.
Before the season officially get's underway, TobyChristie.com's Toby Christie and Joseph Srigley figured they would give 20 predictions for the 2020 season. Obviously, as these guys are experts, these predictions will be nearly 100-percent accurate when you look back at them at the end of the season (no sarcasm at all — wink, wink).
Without further adieu:
1. Who will win the 2020 Daytona 500?
Toby Christie: Ryan Blaney. Sure, I know he's going to a backup car, but he drives a Ford — which have been super dominant at the superspeedways in recent years — and he won Talladega in the fall. I think Blaney pulls it off.
Joseph Srigley: Ricky Stenhouse, Jr – Stenhouse has become one of the best and most aggressive superspeedway racers in the last couple of years. Between his own and JTG-Daugherty Racing's superspeedway success over the last couple of season, I think Ricky Stenhouse, Jr. keeps the fenders on it long enough to be the 2020 Daytona 500 Champion.
2. 2020 Truck Series Breakout Driver of the Year
TC: Sheldon Creed. While he didn't do as well as we expected in 2019, Creed came on strong near the end of the season. He recorded seven top-10s over the final nine races of the year, including two runner-up finishes.
JS: Tanner Gray. Even though Tanner Gray has gone in a straight line for most of his racing career, I believe his rookie season in the Truck Series will be a great one. In his limited starts for DGR-Crosley at the end of 2019, he showed promise, running exremley well at Martinsville, while keeping it clean at Phoenix and Homestead. I think Tanner Gray wins at least one race this season.
3. 2020 Truck Series Most Wins
TC: Ty Majeski (Five). I think Majeski busts out to the tune of a handful of victories for Niece Motorsports in 2020.
JS: Brett Moffitt (Four). I know, what a boring pick right, but it is really hard to deny that Brett Moffitt is going to be strong again in 2020. Moffitt has collected an incredible 11 NGOTS Wins in only 60 Starts. Those are some stats I can get behind.
4. 2020 Truck Series Biggest Surprise?
TC: Jordan Anderson. Anderson and his No. 3 team have a new partnership with AM Racing, and I believe Anderson will benefit from the alliance greatly. I expect Anderson to have am outside shot at making the Playoffs, and I expect him to collect at least one top-five finish in 2020.
JS: Tate Fogleman. Tate Fogleman joins Young's Motorsports for a full-time season in 2020, and although his name may not be well known throughout the NASCAR World, this kid has some pretty darn good stats in Late Models. While Fogleman may struggle on the bigger tracks in his first full-time season, I believe this No. 02 Truck will come to life at the short tracks and I think Fogleman could contend for top-tens and maybe even a top-five or two.
5. Eldora Dirt Derby Winner
TC: Chase Briscoe. This is one of my most bold predictions. Briscoe isn't guaranteed to race the event yet, but he has been amazing in it over the last two seasons driving for ThorSport Racing. If he returns in 2020, he wins it.
JS: David Gravel. No Explination Needed *Drops Microphone*
6. 2020 NASCAR Gander RV & Outdoors Truck Series Championship 4?
TC: Todd Gilliland [No. 38], Tyler Ankrum [No. 26], Matt Crafton [No. 88] and Brett Moffitt [No. 23].
JS: Christian Eckes [No. 18], Tyler Ankrum [No. 26], Brett Moffitt [No. 23] and Matt Crafton [No. 88].
7. 2020 NASCAR Gander RV & Outdoors Truck Series Champion?
TC: Todd Gilliland. What a story this would be. Gilliland shrugs off the funk that was associated with him after a couple of sub-par seasons with Kyle Busch Motorsports to claim the title with the newly formed Front Row Motorsports Truck Series team.
JS: Tyler Ankrum. From one story to another, Tyler Ankrum jumps ship to GMS Racing in 2020, after a fairly successful season at DGR-Crosley Racing. I think Tyler Ankrums talent, alongside with the established championship winning team at GMS Racing, gives Tyler Anrkum the edge to win it all at Phoenix.
8. 2020 NASCAR Xfinity Series Breakout Driver?
TC: Riley Herbst. Many are sleeping on Herbst, and I like that. It sets up a recipe where he could really perform better than many are expecting and at the end of the day, he's in Joe Gibbs Racing equipment in the Xfinity Series.
JS: Brandon Jones. Much like his Joe Gibbs Racing teammate Riley Herbst, many people are sleeping on Brandon Jones for the 2020 NASCAR XFINITY Series Season and while it took him a bit to get his first one, I believe the momenteum will continue throughout 2020, with Jones winning at least two NASCAR XFINITY Series Racing.
9. 2020 NASCAR Xfinity Series Most Wins?
TC: Justin Allgaier (six). After just one win in 2019, Allgaier will have one of the best Xfinity seasons (from a wins standpoint) in recent memory.
JS: Daniel Hemric (five). This is probably a pretty bold one, but I believe that Hemric will win FIVE races in his twenty-one race NASCAR XFINITY Series Campaign in 2020. Hemric has been so close so many times to getting a win in the XFINITY Series. I think Hemric's motivation will reach new heights, with wife Kenzie expecting their first child, and him potentially racing for his career in NASCAR past the 2020 Season.
10. 2020 NASCAR Xfinity Series Biggest Surprise?
TC: Sam Hunt Racing and Colin Garrett. I think this team is building their operation the right way. They have competent folks tuning the car and they have a partnership with TRD. I think they certainly could be a big surprise in 2020.
JS: Tommy Joe Martins and Martins Motorsports. Tommy Joe Martins seems to always find a way to impress people, weither it be through his NGOTS Team or his impressive runs for BJMM & MBM in 2019. Then the surprising announcement came that Martins Motorsports was coming back, this time to the NASCAR XFINITY Series, then mere weeks later the mention that Martins had sold the majority of the season in sponsorship. I think we can expect more surprises from Tommy Joe Martins this season, including contention for the 2020 NASCAR XFINITY Series Playoffs.
11. Indianapolis Road Course Winner?
TC: Austin Cindric. There aren't many folks in the Xfinity Series garage that have proven to be as talented on road courses than Cindric. Add in the fact that he drives for Roger Penske — who owns the track — and you have a guy who will be hungry to show his boss what he can do.
JS: AJ Allmendinger. At the end of the day, this question really only had two choices, Austin Cindric and A.J. Allmendinger. I think I gave the edge to Allmendinger simply just because of his experince level over Austin Cindric, I think although there will be a learning curve for Allmendinger too, being acclimated to driving the XFINITY Cars for a longer time, may give Allmendinger a competitive edge.
12. 2020 NASCAR Xfinity Series Championship 4?
TC: Chase Briscoe [No. 98], Justin Allgaier [No. 7], Harrison Burton [No. 20] and Austin Cindric [No.22].
JS: Justin Allgaier [No. 7], Noah Gragson [No. 9], Chase Briscoe [No. 98] and Brandon Jones [No. 19].
13. 2020 NASCAR Xfinity Series Champion?
TC: Chase Briscoe. I mean, why not? He nearly contended for the title in 2019 even with the Big-Three (Christopher Bell, Tyler Reddick and Cole Custer) still in the series. I think it's Briscoe's time to shine.
JS: Justin Allgaier. I think we are about due for a vetrean champion in the NASCAR XFINITY Series. It has been nearly 20 years since somebody with more than three full-time XFINITY Series Seasons has gone on to win the Championship. Allgaier, heading into his 10th, I think will change that in 2020.
14. 2020 NASCAR Cup Series Breakout Driver?
TC: William Byron. This one seems like a no-brainer. Byron has been knocking on the door to victory lane. I think he gets the door in for multiple wins in 2020.
JS: Aric Almirola. Aric Almirola is a very quiet race car driver, you don't often see him go out there and destroy his competition, but more often than not you will see him sneak into the top-five or the top-ten at the end of a race, when he hasn't exactly been there all day. I think if Stewart-Haas Racing can get stuff figured out for 2020, Almirola could sneak up there and grab some wins, instead of just grabbing top-ten finishes.
15. 2020 NASCAR Cup Series Most Wins?
TC: Kyle Busch (Eight). Busch comes out to a furious pace in 2020, eager to fuel his fans and further silence his critics. Busch has made it no secret that he wants to reach 100 Cup Series wins in his career, he takes a big step towards that total in 2020.
JS: Kevin Harvick (Seven). Kevin Harvick and Rodney Childers have been inseprable since the day they joined forces in 2014. Last year was a little bit of an off year (by their standards at least), but if Stewart-Haas Racing as a whole continues to trend in the right direction like they have started to, the field is in BIG trouble.
16. 2020 NASCAR Cup Series Surprise Playoff Contender?
TC: Chris Buescher. Hell, Buescher was about the most consistent driver in a non-playoff team last year. He was a fixture in the top-15 for JTG Daugherty Racing and he tore up very little equipment. I expect Buescher to return to the Playoffs for the first time since 2016, now that he's with Roush Fenway Racing.
JS: Ryan Preece. Coming off of a dimsal rookie season last year, Ryan Preece changes numbers and changes teammates for the 2020 Season. Although it may not seem like a huge change, I think having Preece with the No. 37 Team for 2020, will do him wonders. I think Preece will be extremley consistent this season, and will stay in playoff contention all season long, eventually being able to narrowly make his way in to his first NASCAR Cup Series Playoffs.
17. Outlook for Daniel Suarez & Gaunt Brothers Racing for 2020?
TC: They will run every race after Daytona and will struggle early on. However, by mid-season I see them being a solid top-15 contender and they even rack up a few top-10's along the way.
JS: After missing the first and the biggest race of the season, Daniel Suarez and Gaunt Brothers Racing are in a hole, coming into the rest of the 2020 NASCAR Cup Series Season. The team had already been scrambling to get their things together for "The West Coast Swing", and now without the large chunk of change that comes with making the Daytona 500, this team may be in major trouble in a couple of months. I believe the focus now has to shift from improving their performance for 2020, to just trying to establish a good forum of communication for when the Cup Series hits the reset button in 2021.
18. Surprise Cup Series Driver Who Doesn't Win a Race in 2020?
TC: Brad Keselowski. An off-season crew chief shake up and Keselowski not seeing eye-to-eye with his teammate Joey Logano at Speedweeks will not bode well for the 2012 Cup Series champion this year. I think as the season drags on, frustrations mount and Keselowski at least entertains the thought of driving for another team in 2021.
JS: Marting Truex, Jr. – This is the boldest prediction that you will ever see me make, but I think that Martin Truex, Jr. will go winless in 2020. Arguably, Truex has had the majority of his success over the last couple years with crew chief Cole Pearn, who will no longer be with Martin Truex, Jr. and the No. 19 Team for 2020. The last time Truex went without Cole Pearn? 2014, where Truex brought the Furniture Row Racing No. 78 home to a 24th place points finish, just one year removed from Kurt Busch bringing the team home tenth in the point standings. While I think Truex will still make the Playoffs handily, I don't think the chemistry will be the same between him and James Small as it was with Truex and Cole Pearn.
19. 2020 NASCAR Cup Series Championship 4?
TC: Joey Logano, Kevin Harvick, Kyle Busch and Chase Elliott.
JS: Kevin Harvick, Denny Hamlin, Kyle Busch and Joey Logano.
20. 2020 NASCAR Cup Series Champion?
TC: Joey Logano. He's just hitting the start of his prime age as a driver. He's shown why he earned the nickname 'Sliced Bread' and he will continue building his legacy in 2020 with a second Cup Series title.
JS: Denny Hamlin. Sorry, but it's just time for Denny Hamlin to win a championship. The man nearly won it in 2010, and lost out in the final race at Homestead. Then, again last season, he seemed destined to be a serious threat for the Championship at Homestead, when a crew member made a mistake and cost Denny Hamlin the race. He has proven he is a championship caliber driver, he just needs the Championship to go along with it. 2020 is the year of Denny Hamlin.