Honorable Mentions: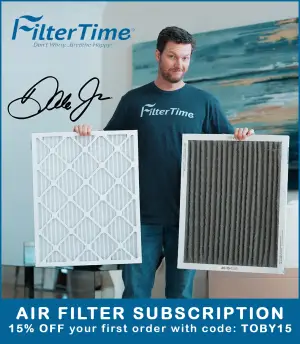 While only 10 paint schemes ultimately made my cut of the best-of for the 2019 season, there were several others that I considered putting on the list. They — at the very least — deserve an honorable mention!
Bubba Wallace No. 43 Orange Vanilla Coke paint scheme was beautiful. There aren't enough orange race cars out there.
Nearly every Rick Ware Racing scheme. No, I'm not joking. Despite being a team that scratched and clawed to finish inside the top-30 week in and week out, no team had a better overall paint scheme portfolio than what RWR had in 2019.
Corey LaJoie No. 32 Old Spice Face Car was a very interesting over-the-top scheme which broke the internet during Daytona speedweeks.
Corey LaJoie No. 32 Scooby Doo Mystery Machine was another solid paint scheme from the Go Fas Racing team in 2019.
Kevin Harvick No. 4 Busch Beer Gen-X Scheme was another wild swing by the Busch marketing team. While the Millennial car from the All Star race was an atrocious mess, the Gen-X scheme actually turned out really cool looking.
Now, with the honorable mentions out of the way it's time for my top-10 NASCAR Cup Series paint schemes from the 2019 season!
10. William Byron No. 24 Axalta Patriotic Scheme
Who would have known replacing the iconic Axalta dark blue with white as the base color of this iconic scheme would make such an impact? During the "NASCAR Salutes" summer campaign, Byron utilized this scheme and he also ran it at Homestead in the final race of the season. Overall, it looked absolutely brilliant every time.
Byron finished ninth in the Coca-Cola 600, second in the July Daytona race and 39th at Homestead with this paint scheme.
9. BJ McLeod No. 53 Enlisted Nine Fight Co. Scheme
The Rick Ware Racing teams had impressive paint schemes all season long, and during the Coca-Cola 600 at Charlotte Motor Speedway, all three of their cars had iconic military aircraft schemes. BJ McLeod's No. 53, which paid tribute to the US Airforce Tuskegee Airmen.
McLeod finished inside the top-30 (29th) with this scheme.
8. William Byron No. 24 Days of Thunder Throwback Scheme
Holy crap, the folks at Hendrick Motorsports nailed this awesome throwback paint scheme for William Byron.
Byron and the No. 24 team threw things back to Cole Trickle's fictional City Chevrolet paint scheme from the 1990 film Days of Thunder.
While Byron has a different number than Trickle did in the movie (46), the scheme was a powerful reminder of the movie which many NASCAR fans watched growing up. Byron scored the pole at Darlington and finished 21st with this paint scheme.
7. Alex Bowman No. 88 Nationwide Insurance Patriotic Scheme
Most of the time patriotic paint schemes are very obvious. In fact, many bash you over the head with the star spangled banner's colors. However, Alex Bowman's No. 88 Nationwide Insurance Patriotic scheme in 2019 was different. It was chill and subliminal. If you took a quick glance, you may not even notice it's a patriotic paint scheme.
The car featured a white No. 88 with a red outline, while the body of the car featured an artsy American Flag in different blue shades.
Bowman started 13th, led eight laps and finished seventh in the Coca-Cola 600 driving this paint job.

6. Stenhouse/Hamlin Darrell Waltrip Tribute Schemes
You know you have an iconic paint scheme when two different NASCAR Cup Series drivers throw back to it in a single season. This was the case for Darrell Waltrip's Western Auto livery.
Ricky Stenhouse Jr. surprised Waltrip by unloading their version of the car at Sonoma Raceway — Waltrip's final race in the booth for FOX Sports.
Hamlin also rocked the scheme in the Southern 500 throwback weekend at Darlington Raceway.
Stenhouse had the better finish in the scheme, as he came home 21st at the twisty-turny road course in wine country. Hamlin, meanwhile, finished 29th after being involved in an accident late in the Southern 500.
5. Ryan Newman No. 6 Coca-Cola Patriotic Scheme
Possibly the most underrated scheme of the 2019 season was Ryan Newman's Coca-Cola patriotic car that ran at Michigan International Speedway in June. The car is stunning as it is mostly red, but features a patriotic Coca-Cola bottle on the sides. Pouring out from the bottle are numerous red and blue stars on a white backdrop.
Not only was the car beautiful, but Newman also got a solid finish with it as he was eighth in that Michigan event.
4. Michael McDowell No. 34 A&W All American Food Scheme
Fast food schemes were popular in 2019, as McDonald's made their presence known on Kyle Larson's No. 42 machine several times this past year as well as Bubba Wallace's for a race, but no fast food chain had a sweeter scheme than A&W.
The root beer producer, who also have american-style fast food restaurants in their portfolio, featured a scheme on Michael McDowell's No. 34 car which had a dark wood grain base. Flowing from the hood is a white cream while covers a portion of the wood paneling. The car also features A&W's classic orange on the roof and at the very bottom of the sides.
McDowell ran this scheme in both Martinsville races in 2019. He finished 31st in the spring and in the fall he started fifth and finished 23rd.
3. Brad Keslowski No. 2 Snap-On Tools Scheme
Not many schemes exuded toughness like Brad Keselowski's Snap-On Tools look that was sported at Talladega Superspeedway in the spring.
The car's design had a black base, and featured a really dark gray splash on the rear quarter panels. On the hood there is a bold red panel surrounded by white stripes. Inside this panel is the iconic Snap-On "S" logo. It is just a very badass looking car.
Keselowski started fourth and led 10 laps in the race before settling for a 13th-place finish.
2. Bubba Wallace No. 43 U.S. Air Force Scheme
It had been several years since the U.S. Air Force changed up the look of their paint scheme with Richard Petty Motorsports, but they held a vote for their 2019 look and the fans chose a solid one.
Wallace's No. 43 featured a tribute scheme to the U.S. Air Force's Warthog. Including the shark teeth on the front of the machine and phony body rivets and panels throughout the scheme. The car looked stunning.
Wallace finished 15th at the July Daytona race with this look and he was 25th at Phoenix in the fall running it as well.
1. Corey LaJoie No. 32 CorvetteParts.net Scheme
In my opinion, there were a lot of great paint schemes in 2019, but none were as slick as Corey LaJoie's No. 32 CorvetteParts.net scheme.
The scheme isn't flashy and doesn't feature any crazy visualizations. But the clean scheme features a black base with gray swoops down the sides. Highlighted on the car is the punchy bright orange from the Keen Parts logo, which really brings the look together.
Overall, this is a beautiful scheme and it was the best of 2019.