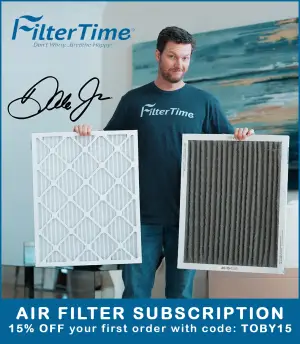 Well, there it is.
Martin Truex Jr. has officially chiseled his name into the 2019 Monster Energy NASCAR Cup Series Championship 4 for Homestead-Miami Speedway. And he did it in dominating fashion, as he led 464 of the 500 laps at Martinsville on Sunday. Now, Truex has seven wins on the year (more than anyone else).
Here is an interesting stat for you:
Truex has made 510 starts at the Cup Series level. In his first 255 starts, Truex had just one victory. In his last 255 starts, Truex has piled up 25 wins. That is a hell of a career turn around for the New Jersey native.
Truex by winning at Martinsville is now locked into the championship 4 for the fourth time in the last five years. Only one other driver can claim that same feat — Kyle Busch.
However, as Truex continues to lay the groundwork for another potential championship-winning finish, his fellow contenders for the title are becoming embroiled in all sorts of drama, which may make the path to a second championship even more clear for the 39-year old driver.
Let's start with the obvious.
Denny Hamlin and Joey Logano have bad blood that stems deep. And their feud reared it's ugly head yet again this weekend at Martinsville.
Logano and Hamlin used to be teammates at Joe Gibbs Racing. However, when Logano was ushered out and picked up by Team Penske, there were obvious hard feelings. In 2013, the two got together at Bristol. At the end of the race, Logano and Hamlin and their teams had a bit of a brawl.
The very next race, the two were locked into a vicious battle for the win at Auto Club Speedway.
On the final lap of that race, the two made contact and Hamlin went spinning into the inside wall. Hamlin would break his back in the crash.
Fast forward to a few weeks ago at Dover, while 24 laps down Logano raced Hamlin aggressively despite Hamlin battling for a Stage win. This really got Hamlin's blood boiling.
And now this latest incident, where Hamlin put Logano into the wall and cut his tire down and then the two — and their crews — got into it on pit road afterward.
Call me crazy, but with the pressure of the Playoffs ramping up, I have a feeling these two aren't done roughing each other up.
Then there is Kyle Busch.
Busch got into an on-track altercation with Aric Almirola this weekend while running for the seventh position.
A couple of laps earlier, Busch had been shoved out of the groove by his teammate Hamlin. As a result, Busch slid to seventh. Then Almirola booted Busch out of the way for the spot. Busch had enough and the two made contact and spun around. Almirola took a hard hit from Jimmie Johnson, which ended his day.
What looked like a solid top-10 ended up in a next-to-last finish for Almirola.
After the race, the usually cool and calm Almirola vowed to make the rest of the Playoffs a living hell for Busch.
If Almirola makes good on his promise, there is a chance that Busch doesn't make it into the Championship 4, or if he does there is a solid chance he doesn't make it to the checkered flag to hoist the championship trophy in Homestead.
Even if Almirola is just tossing an empty threat, Busch has not been his dominant self as of late. He won four of the first 14 races this season. However, it's now been 19 races since Busch last popped the champagne in victory lane. Since the Playoffs started, Busch has finished outside the top-10 in four of the seven races.
If he doesn't snap out of his funk, his shot to win a title may be over with or without help from Almirola.
Kyle Larson — another championship contender — is battling through the pain of a fractured rib. That really could knock him out if he sustains another accident before the end of the season, but regardless, Larson has a lot of ground to make up points-wise if he wants to advance anyway.
He will have to minimize mistakes or pop up with an opportune win to move on to the Championship 4.
And for Chase Elliott, he has run into some horrible mechanical reliability issues.
Elliott blew a motor at Dover after just eight laps of racing. This weekend in Martinsville, he blew another motor in opening practice. And then during Sunday's race, Elliott broke an axle and had rear gear issues as well. Elliott now faces a must-win situation if he wants to advance, but the way it's going his cars can't make it to the finish to have a shot to win.
The only two drivers inside the Round of 8 that Truex has to deal with that haven't had any drama surrounding them are Kevin Harvick and Ryan Blaney. However, as it stands, both of them are outside of the top-four in the standings looking in. If they can't work their way into the top-four or win a race, it's a moot point.
Truex seems like the logical choice to win the championship in my opinion. He seems poised, he's been in this situation before and he has kept his nose clean all season long.