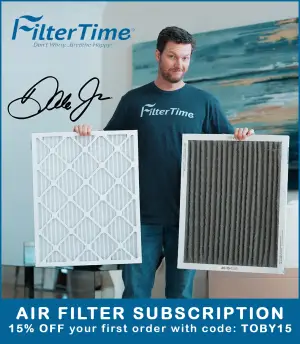 I'll probably take some heat for this, as Joey Logano isn't the most popular driver in the garage area — but I don't understand why everyone is so pissed off at the 2018 Monster Energy NASCAR Cup Series champion.
Sure, near the end of Stage 2 of Sunday's Drydene 400 at Dover International Speedway, Logano — who was more than 20 laps down after a broken axle suffered during the pace laps — didn't make life easy for the guys who were vying for the Stage win, and Denny Hamlin criticized Logano for it after the race.
"I thought [Logano] was trying to stay on the lead lap, but they said he was 24 laps down and so he was kind of air blocking us there and we lost the lead and lost stage 2," said Hamlin after a fifth-place finish. "Then after that we lost control of the race and the track tightened and there were no cautions to pick up the rubber. Once we lost control, lost clean air, it was so difficult to pass. I needed to be up front with as tight as my car was. Lost the lead and backpedaled from there."
Okay. So, let me get this straight — we are mad at Logano because he didn't just pull three lanes up the track and stop to let the leaders go by? That's ridiculous. Logano wasn't severely off the pace, in fact, he had a competitive car. Logano started the race 23 and a half laps down after spending the initial start in the garage.
By the end of the day, Logano had only lost two more laps to the leaders. That shows, at a place where losing laps is easy, that Logano had a decent car on Sunday.
Regardless, it makes no difference whether Logano was one lap down or 300 laps down. If he has a good competitive car and isn't slamming into people around him, it's up to the faster cars to find their way around. Logano and other lapped cars in the field are also running a race, although it may not be covered by television networks.
Logano explained after the race, that he had cars that he could still catch and pass in the running order, so his job at that moment in time was to drive as fast as he could to do just that.
"Well, the situation was that I had about four or five cars that it was possible for me to catch, which is five points," Logano said. "You tell me if it is worth it. I would say it is worth it and I have to go. I have to try to get those spots if I can get them. If some of those cars that were that slow out there and were going to be 20-something laps down, the pace we were running we were going to be within a lap or two of them. I had to race hard. I had to keep going."
He's absolutely correct.
Side note: Was Logano shown a blue and yellow flag yesterday, which is displayed for holding up the leaders?
No. As such, he had no reason to pull over.
Plus the fact that the criticism is coming from Hamlin is slightly comical. I seem to recall several moments in Hamlin's history that were pretty bad-form. Some much worse than what he experienced at the hands of Logano on Sunday.
Remember, it was Hamlin who spun Chase Elliott from the lead in the Martinsville Playoff race a couple of years ago.
How about the iconic 2008 Richmond race where Kyle Busch spun Dale Earnhardt Jr. on the next to last restart of the race? Do you remember how that restart came to be? Well, Hamlin who had been the leader suffered a problem. Instead of pitting to fix the problem, he decided to alter the race by putting around for a couple of laps and stopping on the track instead.
This brought out the yellow flag, and that's when Earnhardt vs. Busch began.
Hamlin has had his fair share of boneheaded moves over the years. But still, I don't feel what Logano did on Sunday was boneheaded.
Let's not forget that Logano won the 2018 championship by being aggressive.
Logano roughed Martin Truex Jr. up for the win at Martinsville last fall and he was criticized for the move. However, that move locked Logano into the Championship four, and when Homestead came around Logano out-classed the field for the win and the championship.
Why would he abandon that playbook this time around in the Playoffs.
I think it's time that drivers, who have a problem with hard race, to get a bit thicker skin and just accept that at this level you may have to race hard every now and again.