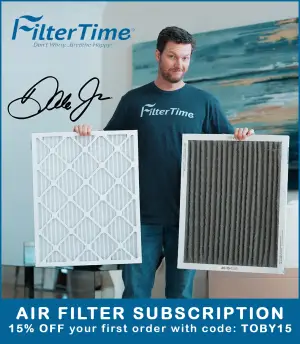 It was an exciting morning for Hendrick Motorsports as they announced that Ally Financial would be extending their full-season primary sponsorship of the No. 48 car for three more seasons, which will take their deal to the end of 2023.
It is a statement deal in an industry where sponsorship has become harder and harder to find in recent years. But things got awkward when it was revealed that Jimmie Johnson has yet to sign a contract extension.
Johnson is currently only on contract with HMS until the end of 2020.
The awkwardness was only compounded when Johnson was asked about when he'll be making a decision about his own future.
"No, I haven't made any decisions at this point," Johnson said. "I'm very, very excited that Ally has signed this extension with Hendrick. I think it speaks to the strength of our sport and strength of the relationship with Hendrick Motorsports. I know everybody would like me to be in the car to 2023 and even past that, but I just haven't made that decision yet."
It seems weird, as in year's past Johnson had no issue inking his contract extensions with those of his sponsor Lowe's. So it makes you wonder what is different now?
Well, for starters, Johnson is now 44-years old, and although he has indicated his want to drive into the extended future in the past, he could seriously be contemplating whether his career should end after 2020. That would not be crazy for a guy with a growing family to want to slow down and spend more time with his wife and children.
Johnson missed out on the NASCAR Playoffs for the first time in his illustrious career this year and he is more than two years removed from his last victory in the Monster Energy NASCAR Cup Series. After his championship season in 2016, Hendrick Motorsports really dropped off a step as the leading organization in the Series. They have bounced back some over the last year and a half, but there's no denying that Joe Gibbs Racing, Team Penske are leading the way.
Perhaps, Johnson is mulling jumping ship at the conclusion of the 2020 season when the Next Generation NASCAR race car is brought into play?
Regardless, on Friday, Johnson did not sound like his typical loyal-HMS lifer self on Friday.
"I don't have a timeline," Johnson explained. "I personally know that I would like every day that I can before I need to make that decision. There's a lot of things to look at with the Gen-7 car coming and the way our team is performing and what we are building. And, I might want to go longer than 2023. I just don't know. And, I have not put much time and effort into it. There have been many other things to deal with and look at."
Naturally, this could all mean nothing as Johnson did explain that usually he doesn't begin contract extension talks until the spring of his contract year.
"These things, in the past, a contract renewal would usually start in the spring of the year the contract would end," Johnson said. "So, based on past experience, I would say that probably spring next year is when I would really get pressure to make a decision if I was going to return in 2021. I hate I don't have any good news for you. I know you'd love to have that firm timeline, but I just don't right now."
This really could be nothing, and if it isn't I'm sure I'll get people laughing at this even being my thoughts at this current time, but it sure feels like Johnson is mulling not being with the only team he has ever driven for in the Cup Series for 2021.