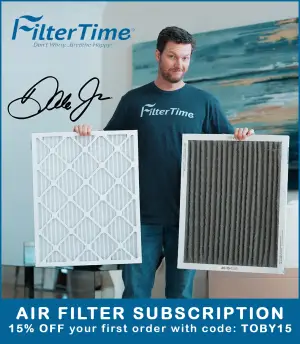 FORT WORTH, Texas — It isn't just happenstance, folks. Ryan Sieg and his RSS Racing No. 39 team have undoubtedly found the key to unlocking endless top-10 finishes in the NASCAR Xfinity Series. Saturday, in the My Bariatric Solutions 300 at Texas Motor Speedway Sieg and company put together possibly their most impressive performance to date.
Sieg rolled off the grid mid-pack from the 19th-position, but he knifed his way through the field rather quickly.
After working his way into the top-10 shortly after Stage 2 began, Sieg kept himself in position throughout the entire Stage. As this portion of the race was finishing up, a caution came out with just nine laps until the end of the Stage.
While the majority of the field went to pit road, Sieg and his team pulled a strategy move to stay on the track with old tires in an effort to hold off the field for a Stage win. The gutsy gamble paid off in a big way. Sieg led eight laps and secured the first Stage win of his NASCAR Xfinity Series career.
"I kinda got in the right line and figured I could get away," Sieg explained. "[Justin Haley] and [Ross Chastain] I figured could clog up a couple of them and get away. It worked out great. I was pretty confident with clean air the car handles a lot better."
After the excitement of the Stage win faded, reality set in. Sieg would have to hit pit road under the Stage caution, while those that had just pitted stayed out. This sent Sieg back to the 15th position.
However, the Georgia native would not be denied. He stayed up on the wheel the rest of the race and as the race was drawing to a close he was in a great spot to pull off a great finish with fuel mileage, until a late caution ruined the strategy.
"Great calls all day by Shane Wilson," Sieg stated with excitement. "Getting the Stage win and we were sitting really good with 14 to go and the caution came out. We had enough fuel to go part of the distance, but the caution came out. Great job to all of the guys. I can't thank CMR enough and all the sponsorships that make this possible."
Still, Sieg pulled off a rally to finish 10th.
This marks Sieg's fourth top-10 finish in six starts in 2019. Sieg still has yet to finish worse than 11th in any race this season. With his latest effort, Sieg holds serve in ninth in the championship standings and he now has a Playoff Point in his back pocket by virtue of his Stage win.