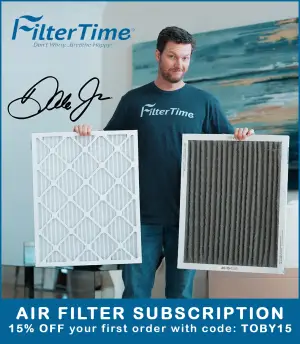 Brennan Poole and On Point Motorsports have announced via Twitter that they have landed a sponsor for the NextEra Energy 250 at Daytona International Speedway.
Bad Boy Mowers will be on the No. 30 truck.
Take a look at my @MotorsportsOn @ToyotaRacing Tundra for the @NASCAR_Trucks season opener at @DISupdates! Thank you @badboymowers and @brownpelican_gr! pic.twitter.com/ZIRjOUOM3O

— Brennan Poole (@brennanpoole) February 12, 2019
https://platform.twitter.com/widgets.js
---
OFFICIAL PRESS RELEASE
DENVER, NORTH CAROLINA (February 12, 2019) – Officials from On Point Motorsports announced today that Bad Boy Mowers has joined the organization and will serve as Primary Sponsor for the NASCAR Gander Outdoors Truck Series season opening event at Daytona International Speedway. Brennan Poole will pilot the No. 30 Bad Boy Mowers Toyota Tundra in the running of the NextEra Energy 250 as he kicks off his drive for the 2019 Championship.
"It is cool to have Bad Boy Mowers join our organization for the big season opening event in Daytona," stated Steven Lane, manager of On Point Motorsports. "We have put a tremendous amount of work into the development of this team and the addition of a sponsor like Bad Boy Mowers shows that people have recognized that. We look forward to a solid week in Daytona and starting the season off with a strong showing in our No. 30 Bad Boy Mowers Toyota Tundra."
On Point Motorsports announced last month the addition of driver Brennan Poole to the organization with its sights set on a run at the 2019 NGOTS Chase Playoffs. The duo enters the season opening Daytona event with a high level of excitement and expectations for the season.
"It has been awhile since I have had this much excitement for the beginning of the season," stated Poole. "The amount of work that has been put into this program has been amazing to see and that has created a solid foundation for us. I really feel that we have an great opportunity in front of us to surprise a lot of people. I have had solid success in the past at Daytona, including a Pole Award in an Xfinity car, and I look forward to wheeling this No. 30 Bad Boy Mowers Toyota Tundra on Friday night. It is also exciting to have Brown Pelican Wi Fi on board with us in Daytona and we look forward to what the future may present between us."
Poole has five career starts at Daytona International Speedway in the NASCAR XFINITY Series highlighted by a Pole Award in the July 2017 event and an eventual seventh-place finish. Brennan also has one start at the track in the ARCA Racing Series which also resulted in a seventh-place finish.
"We are very excited to be back in the NASCAR Gander Outdoors Truck Series as primary partner with Brennan Poole and the No. 30 Toyota of On Point Motorsports," stated Bill Hurst of Bad Boy Mowers. "Superspeedway racing is as intense as it gets and the famous Daytona International Speedway provides some of the best racing in our country. We know Brennan and the team have been working extremely hard preparing for the upcoming weekend and wish them nothing but success. Good Luck No. 30 Bad Boy Mowers Toyota and go get 'em."
"Brown Pelican WiFi is proud to be a sponsor of Brennan's No. 30 truck," echoed Mary Beth Hall, CEO of Brown Pelican WiFi. "This is a big opportunity for us to demonstrate what rock solid, secure and super fast wifi can do for sponsors and teams at NASCAR races."
The running of the NextEra Energy 250 will be Friday February 15th and can be seen LIVE on FoxSports1 at 7:30 pm ET and heard nationwide on MRN Radio.